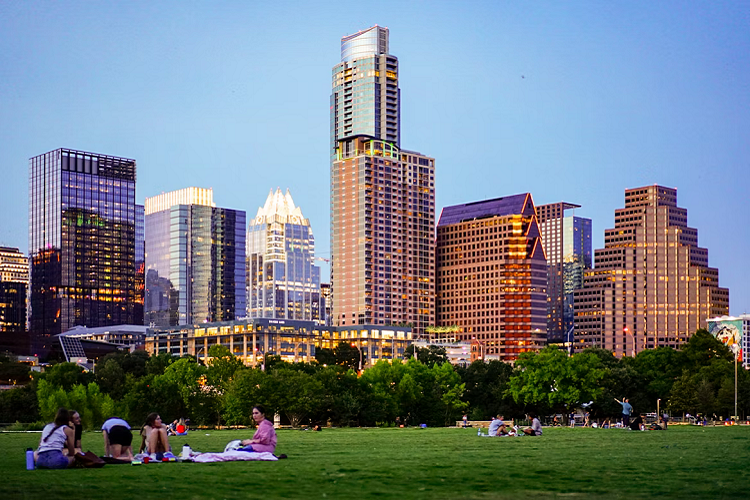 Austin, Texas's capital, is recognized for its amazing food, live music venues, and general eccentricity. It's becoming increasingly popular as a destination to reside in and visit, thanks to its excellent culture and welcoming locals.
One of the best things about Austin is that tourists can easily navigate through the city and find every landmark with ease. They are the most hyped when visiting the capital of Texas because of its beautiful natural attractions and the cheap apartments in Austin which are really easy to find. In order to help you enjoy the most out of this beautiful city, we've compiled a list of the most visited places in Austin, Texas.
Barton Springs Pool
One of Austin's most famous attractions is the beautiful Barton Springs Pool. It's a site where you can swim all year round in great water temperatures, regardless of the weather. Bring the whole family or go swimming with friends.
The water of Barton Springs Pool comes from the Barton Spring, one of Texas' biggest known natural springs. The water is managed for pool replenishment and maintenance. It's not uncommon for visitors to come back multiple times here because of the breathtaking nature.
If you would like to come back multiple times during your stay in Austin, keep in mind that Barton Springs Pool has an entrance fee for most entering. If you plan to stay in Austin for a month or longer, know that the pool offers a seasonal pass for you and your family to make your stay more beneficial in a financial way.
The pool keeps a constant temperature throughout the whole year. In the summertime, it's fresh enough for a pleasant dip, and in the winter, it's warm enough to swim into it. The basin is 1,000 feet long and rectangular, with a paved path surrounding it. The waters are an emerald green color and reach a depth of about 18 feet.
Seasonal lifeguards are on duty, making it the perfect area to visit for people of all ages. You can dry yourself after swimming on the grassy hillside lawns. Many trees provide shade, making it amazing for spending the whole day there. The public is welcome to visit Barton Springs Pool all year round.
Bullock Texas State History Museum
One of the top tourist attractions in Austin for learning about the history of the biggest southern state is the Bullock Texas State History Museum. The museum, which opened in 2001, covers over 16 millennia of Texas history, from ancient civilizations to European settlement to the present day. The three-story museum houses displays and galleries. Each floor is dedicated to a different topic that highlights Texas' territory, identity, and opportunities.
Named after Bob Bullock, there are currently about 500 historic objects in the museum. It's easy to lose track of time strolling through the permanent displays and occasional galleries. There are many different facilities including a movie theater, a café, a gift store, and more.
Several instructional sessions are also held every year. Before visiting the museum, visitors must purchase tickets in advance. One great policy that the museum has is that the first Sunday of each month is the time when everyone can visit for free.
Texas State Capitol Building
The Texas State Capitol Building is a must-see for anybody visiting Austin. It is one of Austin's most well-known landmark buildings and houses the state government. As you near Congress Avenue Downtown, you'll be treated to a spectacular panorama.
The capital building is available to the public for tours and walks about the grounds to enjoy the architecture and learn about Texas history. Constructed in 1885, the Texas State Capitol Building has a lot of locally mined limestone.
The huge dome on top makes it one of the highest capital buildings in the United States. It was further expanded to include numerous floors beneath in later years. Inside the building and on the grounds, visitors can take group tours. Inside, the rotunda has a lot of artwork and pictures of local politicians, and you can look inside the chambers when they're not in session.
Final thoughts
Austin is one of Texas' most lively cities, with everything from rugged mountain ranges to trendy new restaurants.  It receives approximately 27 million people each year and holds a variety of events, concerts, marches, and government events appropriate for the state capital.
It also has a dual personality. While it has many patriotic landmarks and serious memorials, Austin's unofficial slogan is "Keep Austin Weird," and it keeps that promise with quirky boutiques, colorful graffiti, hidden speakeasies, and one-of-a-kind communities with a variety of atmospheres.