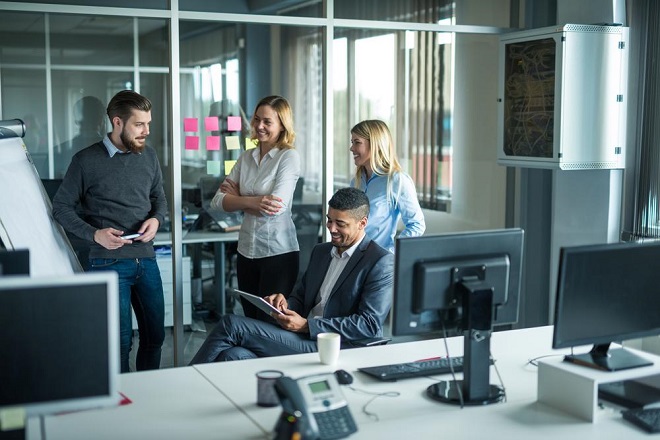 Nothing will stagnate the development of your business like an outdated network system. More online tools and mobile devices are now required for positions across all industries, from creative to accounting.
If you aren't using an enterprise mobile workforce solution, you're leaving time and money on the table. Oversee company activity through a bird's-eye lens with a suite of interconnected mobile devices.
Connect internal and virtual teams without skipping a beat. Ensure that no tasks or projects fall through the cracks, and effortlessly improve efficiency through all levels of management and staff.
Secure mobile devices can cut costs and communication lags throughout your entire operation. If you want to skyrocket the growth rate of your company, this is why you should be utilizing a mobilized workforce solution.
Maximize Company-Wide Productivity
Time wasted is money spent, and unfocused employees can quickly reduce company revenue and morale.
Workers are more likely to stay on task when everyone is on the same page. Prevent unnecessary bottlenecks by ensuring that all team members can communicate with each other at all times.
Manual processes have the potential to back up projects, since there will likely be workers who need certain approvals or permissions to move forward.
Enterprise mobility allows everyone access to instant communication, regardless of where they are in the office or the field. Stop waiting around for your supervisor to return to her desk, and receive the information you need immediately.
Improve Data Security
Cyber safety is no longer just an option. It's crucial to ensure that your proprietary company information is sent, received, and stored securely.
Data breaches are on the rise, and workplaces are becoming more technologically dependent every day. Stay ahead of the risks associated with cloud-based storage and digital document management.
A strong enterprise mobility solution will save your business from experiencing a case of data misuse or malware infection.
External attacks aren't the only impending threat for your business. An enterprise mobility solution can also protect your company from the inside.
Remote device management can allow you wipe devices, whether they're connected to your network or not.
You can also control online activities and entry points, preventing unauthorized users from accessing or sharing sensitive documents. Identity and access management is key to company compliance and data security.
Implement a complete suite of programs that includes mobile content management, remote access, secure app deployment, and identity verification.
Reduce Costs
The price of launching an enterprise mobility solution is nothing compared to the money you can save.
Data breaches alone cost companies an average of $148 per compromised record. With the amount of valuable information that is being stored online, that amount is sure to climb in coming years.
Using an enterprise mobility solution gives you more control over how your company's information is being accessed and utilized. It serves as a method of risk management and defense against the rising threat of cyber-crime and data misuse.
You can also lower operational costs by streamlining processes across multiple departments, including IT and project management. Save time and manpower by automating tasks, holding virtual appointments, or solving technical issues via remote troubleshooting.
Gain More Control
Enterprise mobility helps upper and middle management improve workflow efficiency, while also maintaining control of cross-departmental activities.
Delegation is an important way to move any company forward. But, it's also helpful to keep a close eye on what everyone is working on.
Mobilization can improve your ability to assign tasks from the top down, but a mobile workforce also makes it easier to take a hands-on approach to decision making.
Big or small, every decision made in your operation has the potential to influence the direction of your business.
Improved communication and time-saving applications will keep you from having to chase down outstanding action items.
The benefits of enterprise mobility are instrumental for the growth of any business. Spend more of your time and resources on innovation and strategy with seamlessly and securely connected mobile workforce.