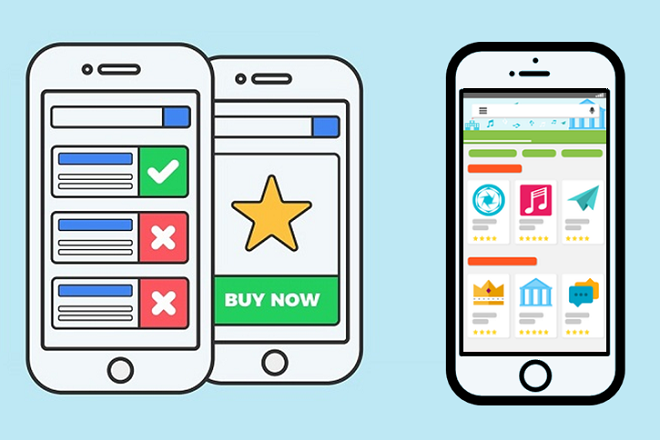 Mobile apps and mobile websites are the most tending forms used to flourish business in the competitive era. These are used at the same platform i.e smartphones and tablet etc. using the internet connection. But still, there is a difference between both.
The mobile app is a program downloaded and installed onto the user's mobile device, whereas the mobile website is simply a website that operates on smartphones or tablet using URL. Both platforms provide the wings to businessman to fly in any sector. As these are used as a singular platform but their features differentiate them. Let me discuss few in our write-up:
V

arious Access Mode

A Mobile App is download from online mobile app stores or from google play store. So, the app requires space in mobile or tablet for successful storage and usually requires no internet connection to run.

On the other hand, a mobile website requires a proper internet connection to show results. Entering URL in the navigation bar is prerequisite to seeing successful results.
P

urpose Variation

A mobile app is installed in the user's device so its usage frequency is high. You can use it anytime and anywhere without the search on the internet.

The mobile website has a different purpose of designing, it informs the large audience or the specific event or promotion for the target audience and limited time window.
D

ifferent Updates Setup

Everyday technology gets updates so, Mobile app development guides the user about their updates from time to time and user using internet connection can update it. But on the other side, on mobile websites, the update takes place without users realize it.
S

cope

The scope of a mobile website is wider than an app. The mobile app is only used by old and frequent users of sites. It requires downloading before using so, their trust factor matters reviews and ratings from users. The one who actually relies upon, only use.

On the other side, the website engages new customers. It requires less accessing a than an app. The user has to just visit the site and perform tasks. This is also a more trusted platform.
M

arket Approach

Mobile app and website both have their different market approach. An app has an active approach whereas website has a passive market approach. The app is installed in phones so it posses higher chances usage. Apps play a handy role in engaging consumer by its pop-up messages.

For the mobile web, the user has to land your website to get any sought of information.
F

ast Service

The mobile app provides is speedy and simple as compared to web browsing. In mobile website one require to launch a web browser and enter valid URL and still wait for the site loading time to access. Whereas mobile apps are quick and only takes a few seconds to launch a page. So, the chances of converting leads are also high under apps.
C

ompany Updates

Mobile Apps have a wide range of functions to perform as compare to the mobile website.
Mobile apps can:
Furnish general information
Book or buy products
Perform a search
Create user accounts
Send important notifications
Allow users to communicate effectively etc.
One of the key benefits of creating a custom mobile app is that your customers will get all the information on special sales, promotions, or news on time.
Whereas in the case of mobile app, one requires to visit the site regularly to get information.
R

efreshing Time Difference

Refreshing time does not affect by serves speed so mobile apps take the least time to refresh as compare to mobile websites. From the technical point of view, the framework used for building a mobile app is more responsive than JavaScript codes of a mobile website. This makes the app faster loading speed than a website.
O

ffline Work Facility

The mobile website always requires a live internet connection to load the website. Whereas in the case of mobile application, one does not need internet connection all the times. Mobile app development company can add a few or all features of the app using the offline platform. When there is no or slow internet connection user may not be able to operate a website but can use effectively mobile application.
Final Words
The emergence of the internet creates a great revolution in the field of mobile apps and mobile websites and boost to all business types. Mobile app and mobile websites both used at different platforms, but serves the same purpose of building brand image among users and growth to company's sale figures.