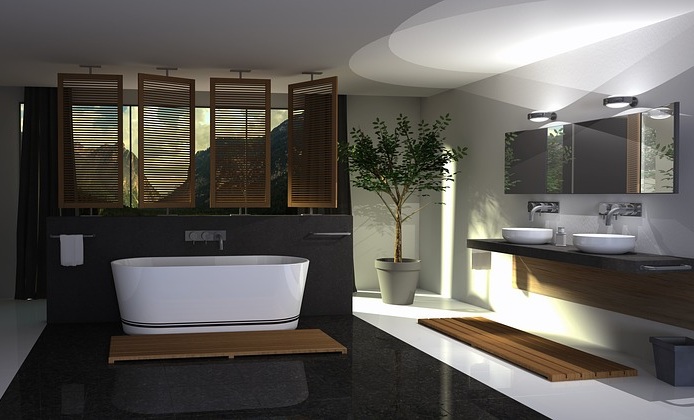 It's 2020, the year that you finally get your bathroom organized. Using these seven cleaning tips, your bathroom will sparkle and shine all year long.
If you've decided that this is the year you finally get organized and keep your house clean — good for you!
Having a clean, well-organized home helps you to be more productive and happier overall.
This decision is a step in the right direction, but how do you pull it off?
Expert organizers usually recommend taking it one room at a time. This article will help you to tackle your bathroom and get it ready for your cleanest year yet.
Reorganize Under the Sink
Under the bathroom sink is a breeding ground for clutter disaster. You can use a few organization tools to help turn this spot into a useful storage area in the bathroom.
Rollout Drawers
These easily installed drawers can sure make your space under the sink so much more convenient.
No more reaching blindly down under. No more taking a chance at what you'll grab and possibly banging your head in the process.
Now, you'll simply pull out the drawer and select exactly what you need.
Cabinet Door Hooks
When you add hooks to the inside of your cabinet doors, you extend the storage capabilities under your sink.
Use these hooks to hang a hairdryer and curling iron, as well as other hangable items.
Shelves or Cups
Instead of just throwing your stuff under the sink to fend for themselves, give them all a home on a shelf or in cute little cups to keep like items together.
Display Rack
Similar to spice racks, you can use display racks under the sink to hold your bigger bottles in an easy-to-see manner.
Lazy Susan
These twirlable platforms are useful in just about any room of the house. But in the bathroom, it's especially useful under the sink where it's dark and cluttered.
You can have it hold all your hair and body products and simply turn it to find the right one. You can use as many lazy susans as you need to fit your bathroom products.
Project Bins
A different way to organize your bathroom clutter is in project bins. It's not only convenient, but it makes sense and certainly helps to keep any mess from accumulating.
Each bin is for a specific activity that you do in the bathroom.
For example, you can have a cleaning caddy, which is a bin full of cleaners, gloves, rags, and cleaning tools.  When it's time to clean the bathroom, you just grab your little cleaning caddy, and away you go!
Just think of all the possibilities using this tactic. You can make a pedicure and manicure bin, face spa bin, hair care bin, and a first aid bin.
Hack Your Shower
One of the most problematic areas in the bathroom is the shower. Let's hack your bath into a cleaner, more organized space.
You can add an extra curtain rod with hooks and claws for smaller squeeze bottles. Some you can clip with the claws, others you can snag on the hooks.
Want to take care of all those shampoo and conditioner bottles strung out on the ledges of the bathtub?
Try using a tension rod shower caddy or easy stick corner shelves.
These added ledges will help keep mold and dirt off the side of the bathtub and keep your bottles in easily accessible levels.
Another great way to keep your shower looking stylish is by investing or making your own bottles for your shampoo, conditioner, and body wash.
These matching bottles add style to your shower and help make it look cleaner due to the uniformity of the containers. While you're at it, get a few for the bathroom sink, one for hand soap, one for lotion, and one for mouthwash.
Space Saving Organizers
Take advantage of space-saving organizers when trying to keep your bathroom cleaner.
Tiered Trays
You can use glass, ceramic, or pewter tiered trays in the bathroom for many different purposes.
Using one to organize your cosmetics can add some glamour to your bathroom and keep your makeup from getting out of hand. (For all those who have a palette or lipstick collection that continues to grow, you understand.)
Ladder Shelves
Propping a ladder onto your wall sounds a bit strange, but when you see all the possible uses for it — you'll no longer question why.
Ladder shelves are the perfect solution for a narrow bathroom to add towel space.
There are many other things you can hang, like a robe or some "S" hooks for even more clever storage.
Slim Rolling Cart
Slim rolling carts can fit into small places that you chalked up to the "lost space" category.
Then along comes the skinniest rolling storage organizer you've ever seen. And it transforms a difficult area into a very valuable space in your bathroom.
Glass Canisters
Glass always gives an area an upgrade. Take advantage of this and get yourself some glass canisters of different sizes to hold your bathroom items.
Use them to hold cotton balls, cotton rounds, and cotton swabs. You can keep your nail polishes in one, and your eyeshadow pans in another.
Towel Organization
The first step to towel organization is to fold them right. Yes, there are better ways to fold towels to make them easier to organize.
Curious?
Check out the way that professional organizers fold towels in this quick read.
Once you've decided how you will fold your towels, then you can organize them accordingly. Alternatively, you can see what your space offers, and determine how you will fold your towels to fit.
You can use baskets for rolled towels. Hooks for hanging them between uses are a great way to keep them from getting that old towel smell.
You should always have a hamper nearby for dirty towels, whether it's hanging from the door or a cute basket with a lid.
The All-Purpose Peg Rail
You can use peg rails in many convenient ways to keep the bathroom clean. You can hang towels from the pegs. You can also hang baskets, hang bags, or virtually anything with a handle or hook.
Think Vertical
Bathrooms are generally small, so using every inch in the room is your best bet. Think about all the vertical space that is leftover in the typical bathroom.
You can use the wall over the toilet for storage. You can buy tall narrow storage or bookshelves for extra space.
Floating shelves strategically placed can be a great solution as well.
Conclusion
These seven tactics to organize your bathroom are doable in anyone's home.
You may need to tweak a few to make it work for your personal clutter problems, but the ideas are still effective.
Using these bathroom organizational tips and tricks can help you reach your goal of a cleaner year.
Harper offers modern luxury apartments that are centrally located in Tempe, AZ. Learn more about their premium amenities and apartment availability by visiting their website.