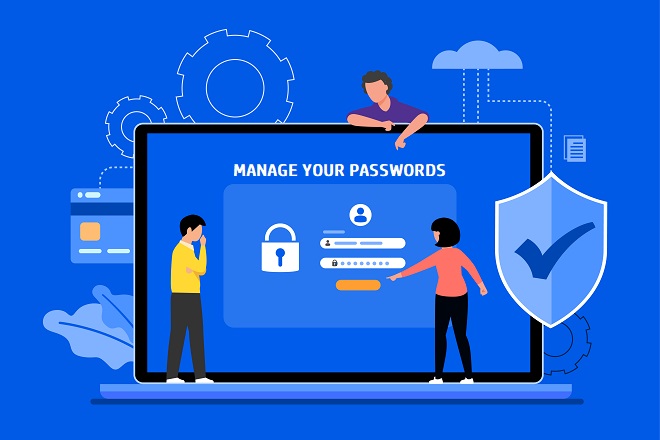 Almost every website we visit requires us to create an account, which includes a username and password. As a response, we often make passwords that are easy to remember. We as humans have a limited capacity to remember complicated things. Hence, when creating a password, we choose one that we cannot forget.
When an individual creates a password, it is as easy as "123456789," or they use the password they have from their other accounts. Meanwhile, others use their personal information as a password. Either way, all can be a victim of identity theft.
Identity theft is a serious crime. It is said that 1 out of 15 individuals becomes a victim of this cybercrime. When a person's identity is stolen, the cybercriminal can use the information they have gathered to apply for loans, medical services, and more.
So, how is it possible to avoid losing valuable information online?
There are plenty of ways an individual or corporation can protect themselves. There is the use of antivirus software, VPN, firewall, and more. But one that everyone should keep in mind is the use of a strong password.
With the help of multiple and outstanding password managers online, anyone can create passwords that are complex and difficult to decipher by cybercriminals. There is no need to worry about remembering every password you have created for your account. Password managers store all your account information and will even suggest strong passwords. 
If you want to begin securing your accounts, we have compiled the best free and paid password managers you can use in this year. Try to look at each of them and find out which one will best fit your needs.
Best Password Managers in 2023
If you are beginning to use a password manager for your accounts, opting for the free version is what you need. You can test out which one can best work for you. 
Almost all paid versions have a free version. We will mention if a free version is available to try it first before paying for the full price.
When looking for the best or top-performing password managers online, Dashlane would always be on top of the list. 
It has a friendly and secure way to manage passwords and other information. Dashlane has an easy-to-navigate interface that anyone can get used to. 
It comes with a free and paid version.
When you plan to get the free version, you can save up to 50 passwords on a single device. The free Dashlane features are limited to what is necessary. You can get an alert when there is a data breach, generate strong passwords, autofill, and share passwords to five accounts.
But if you want to enjoy the full feature of Dashlane, they offer three paid plans: Essentials, Premium, and Family.
The lowest-paid version starts at $2.49/month or $1.99/month when billed yearly.
When getting the paid version, you'll enjoy more features than the free version.
Unlimited password storage

Dark web monitoring

VPN 

1 GB file storage

U2F compatible devices

Unlimited sharing of passwords

Automatically changes weak or compromised passwords
Dashlane has a web app, browser extension (Chrome, Edge, Chromium, Firefox), and mobile applications (iOS and Android). It no longer supports the Windows and Mac desktop applications.
The downside to Dashlane is that it is one of the most expensive plans available, but the features are outstanding.
You can try the Dashlane premium version for 30 days.
Are you looking for a password manager for multiple devices? 1Password stands out among the rest. It is the best option for family use. 
Despite not having a free version, 1Password offers a 14-day free trial for their plans.
1Password can be used on all major platforms. It can support Mac, iOS, Windows, Android, Linux, and browsers (Chrome, Firefox, Edge, and Brave).
It offers two plans, business and personal. The personal version has two versions; Individual and Family. 
Both personal versions offer unlimited password and file storage (1 GB), 24/7 support via email, and two-factor authentication.
1Password has a Travel Mode. This feature allows users to hide their saved passwords and other information when away or traveling. Therefore, when you lose your phone, no one can see your information.
The family plan has an additional feature of sharing passwords, credited cards, secure notes, and more. Also, locked-out accounts can be recovered. It can be shared with up to 5 family members. But, if you need more, an addition of $1 per member is available.
If you are using another password manager and want to switch to 1Password, you can easily import your saved passwords.
1Password for individual users is $2.99 per month. Meanwhile, the family plan is $4.99/ 5 members/ month. All are billed annually.
The only disadvantage to 1Password is the unavailability of the free version.
When it comes to securing passwords, Keeper has the best protection you'll need. It's packed with security features such as 256-bit AES encryption, zero-knowledge, and multi-factor authentication.
The zero-knowledge encryption of Keeper gives users the peace of mind they need. All data stored in the server and device are fully encrypted; only the user with the master password can access the account.
Keeper offers versions for personal, student, family, and business use. 
Aside from providing an encrypted account, Keeper has multiple options for authenticating an account. Instead of using 2FA, you have various options. It includes KeeperDNA, text, Google and Microsoft authenticator, RSA SecurID, Duo Security, and U2F. Even when accessing your Keeper account on a smartphone or smartwatch, it requires an authentication login.
Keeper is easy to use because of its simple interface and features. It includes dark web monitoring, record sharing, unlimited password storage, autofill, security audit, and more. The feature depends on the plan you'll avail.
It's available on Windows, macOS, Linux, Android, and iOS. Also, Keeper has a browser extension available for auto-filling of login credentials. 
The personal plan offers a password manager-only version and a bundle version. The family plan also has a similar version (password manager only and bundle version). The family plan can support up to 5 private vaults.
If you are not planning to buy a premium version, LastPass is the best free password manager in the market. Unlike others, where their features are limited, the free version is featured-rich.
The free version of LastPass includes the following features that might interest you.
Store unlimited password

For one user only

Sync password across multiple devices

Autofill and save passwords

Password generator

One-on-one sharing

Secure other information (credit card, address, and more)

Multi-factor authentication

Basic support
The free version is enough for single users and those who want to store their complicated passwords. However, if you need to manage more than passwords and share with others, getting the premium version offers the features you'll need.
Aside from the free features mentioned, there are others you can get in the paid version.
Dark web monitoring

Advanced multi-factor option

Advanced support

Covers unlimited devices

One-to-many sharing

Security dashboard and health

Emergency access
LastPass has two premium versions for personal use. The premium plan is $3 a month and $4 a month for the family plan (6 licenses).
Passwords and other data are secured with AES 256-bit encryption and zero-knowledge.
The downside to LastPass is its technical support feature. Even though it has been stated that the premium version has advanced support, it takes time for users to get the support they need.
It is not only made for personal but business use too. This user-friendly password manager has topped the lists of tech magazines for having security features with a simple and easy to use interface,
NordPass belongs to the security suite that includes NordLocker and NordVPN. But it can be a standalone app. NordPass can be downloaded as an app for Windows, macOS, Linux, Android, and iOS devices. Furthermore, the browser extension supports Chrome, Firefox, Opera, and Safari.
You can try the free lifetime version of NordPass with limited features. You don't have to provide any credit card details to download the software.
Users of different plans can save unlimited passwords, autofill and save passwords, store credit cards and other information, create strong passwords, and sync passwords to another device.
Also, NordPass is secured with multi-factor authentication that can also be applicable on mobile devices (TouchID and Face ID). 
Data Breach Scanner is a new feature added to NordPass to check if the user's passwords and other details have been leaked. 
NordPass allows users to arrange their passwords and other details into folders for more organized content. Also, it scans for weak and old passwords, then automatically updates them when needed.
The XChaCha20 encryption algorithm is the latest encryption technology implemented by NordPass for the best data protection for your passwords and data.
Sharing of passwords and other data is permitted in NordPass. However, to ensure extra security, you can create a Trusted Contact list for encrypted connection and sharing.
When it comes to managing teams, Bitwarden appears to be the best password manager for that! 
It's an open-source and free password manager that is rich in features like LastPass. Bitwarden includes security features that can protect individuals and organizations. 
The free version comes with the following features:
Two maximum users

Unlimited storage of passwords and other information

Allows text sharing

Sync to other devices

Generate passwords

2FA only

Cloud host
But if you need multiple users, you can opt for premium versions. 
Premium versions allow file and text sharing, multi-factor authentication (2FA, YubiKey, U2F, and Duo), security health, 1GB encrypted file attachment, and Bitwarden Authenticator.
The software can work on Android, iOS, Windows, macOS, and Linux. The browser extension is available on popular browsers, Opera, Brave, and Vivaldi. 
It also works with Windows Hello and the Touch ID biometric. 
One issue that some users will encounter is the difficulty in some functions of Bitwarden.
Roboform is the oldest password manager. It's a reason why we consider it to be one of the best password managers in the market. With years of experience providing secure service, there is no doubt when using it.
It is an excellent password manager for businesses or organizations, but there is also a free version.
Free Roboform offers unlimited logins, auto-fill web forms, strong encryption, audit passwords, receive emergency access, and bookmark favorite websites.
Whether you choose plans for personal or business use, Roboform includes 2FA security, cloud backup, web access, sharing of folders, sync passwords to all devices, and 24/7 support.
You get military-grade AES-256 encryption on stored passwords and data.
The business version only offers annual payments.
Are you looking for a password manager for your team or business? Zoho Vault is designed for business use rather than an individual. Although they offer a free and standard plan for individuals, it's best to use for businesses.
Zoho Vault users allow password sharing to team members, password batch changing, and integration with enterprise apps like Gmail, Dropbox, and Office 365. Furthermore, other corporate tools can be integrated with Zoho Vault.
Unlike other password managers mentioned in this article, Zoho Vault has a complicated interface designed for teams and businesses.
It's the best place to store all sensitive information. 
Users can store unlimited numbers of passwords, notes, and other documents. 

Import passwords from other password managers

Auto-save login credentials from other websites

AES-254 encryption technology
The sharing of passwords becomes easy for teams of different sizes, as it can be in groups or individually. Also, the admin can grant or revoke each user to access the sharing and viewing of sensitive information stored.
Zoho Vault brings more secure and better storage of passwords and other data of corporate users. 
It doesn't come in a desktop app version but is available as a browser extension and mobile app.
RememBear is a password manager you'll love to give a try. It's the best password manager for beginners or non-tech-savvy users. There are full animated bears giving users step-by-step instructions on how to use the application.
Although it's not as advanced as Dashlane and other mentioned password managers in this article, users are given features that can protect their passwords and other data. It comes with bank-grade encryption technology (SRP, AES 256-bit, KMS, TLS), 2FA, and biometric logins.
Also, users who lose their master passwords can still access their accounts using the New Device Key feature.
It comes in desktop and mobile app versions and browser extensions. However, the browser extension is not a standalone app you can install in your browser.
The free version of RememBear is limited so, it's better to opt for the paid version. It cost $6 per month.
KeePass is an open-source password manager that is entirely free. There are no restricted features and no premium version available.
But despite being free software, the challenge that users will entail is the need to piece together the different features. That's why KeePass is best for technically-minded individuals. Users who don't want a challenge when managing their passwords can use Dashlane or others mentioned in this article.
It has a desktop app (Windows, Mac, and Linux) available. It has a mobile app and browser extension but as a third-party download.
You get to control your files by syncing them using file-syncing services like Dropbox, OneDrive, and SpiderOak. Hence, you can easily access your passwords and other files on any device with KeePassXC.
The disadvantage of KeePassXC is having an outdated interface, third-party mobile apps, and not designed for non-tech-minded individuals.
Conclusion
Creating complex passwords for each account is essential to the overall protection of devices and data. With complicated passwords, it avoids the loss of data and identity theft crimes. 
Since the human brain has a limited capacity to remember, using a password manager is the best idea to keep passwords safe, and it is handy. Whether you choose the free version for trial or go for paid services, choosing the best password manager depends on what you need.