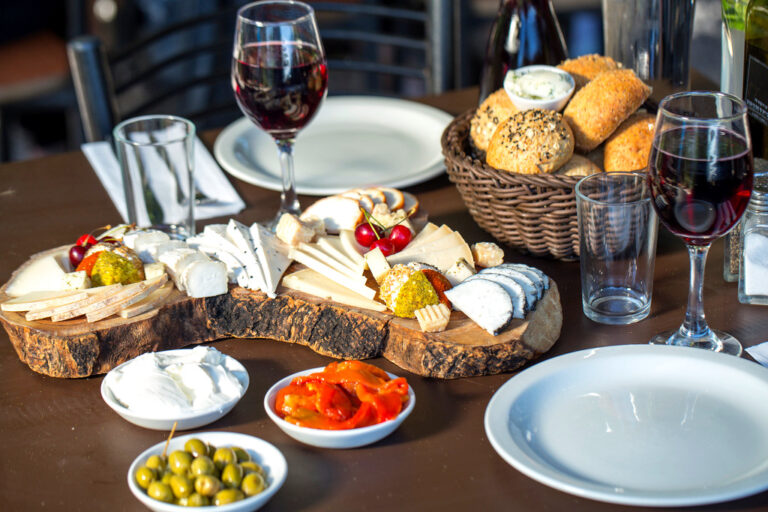 Do you love calling yourself a foodie? Do you love traveling to new places just to try out their local cuisine? If so, you would definitely want to know the best foodie destinations in the whole world right now. In this blog, we will share a list of all those lovely destinations that a food lover would love to visit. Be it places to eat cherry pie or sip your favorite smoothie; this list will cover all the destinations where you can find your favorite food and eat to your heart's content.
Best Foodie Destinations for You to Try Out
Which are the 20 destinations you as a foodie can't miss out on? Here're some of the most popular foodie destinations around the world.
Renowned for its Cantonese food, Hong Kong offers a splendid variety of dim sum and fried treats. If you are a meat lover, you will absolutely love Hong Kong with its array of char siu pork, soy sauce chicken, roast goose, and many other non-veg delicacies to savor.
You will find one of the most extensive assortments of dishes in New York. If you are visiting New York, then trying out bagels, pizzas, and pastrami sandwiches is a must. Some of the best restaurants in the city are known to serve dishes from across the world, which makes the city's cuisine unique.
If you're spending time in northern Thailand, don't forget to give Chiang Mai a visit. The city is known to serve some of the most renowned street food in the world. Try Khao soi, a soup made with yellow egg noodles and creamy coconut curry.
Another contender for superb street food, Mexico City has numerous food stalls selling tacos and fried corn dogs. If you love to cook your own food, you can also visit the Mercado Merced, a giant wholesale market filled with peppers, avocados, and a lot more.
The lively city of Cape Town is home to many cultures. Here you will find your meals served in family-style meant to be shared amongst your family and friends. The best foods for you to try out include boerewors sausage cooked on a braai (South African barbeque), biltong, dried meat, and malva pudding with rooibos tea.
Thanks to the city's renowned fishing industry, San Diego is a haven for fish-lovers. Just one bite of a fresh fish taco will liven you up. In the bustling Little Italy neighborhood, you will get your plate of pasta served right from a cheese wheel. The city is all about fish tacos, beer, and Nonna's gnocchi.
Do you want to taste authentic Israeli cuisine? Tel Aviv is your go-to destination. One bite into their hummus and falafel and your taste buds are bound to go crazy.
The food capital of France, Lyon, is bustling with foodies the entire year-round. The city lives and breathes rich French cuisine across all its streets. Enjoy pâté en croûte and salade Lyonnaise, the city's namesake salad served with frisée, lardons, poached egg, and a pink praline tart.
Tokyo boasts of numerous restaurants, from neighborhood izakayas to luxurious Michelin-starred restaurants. But the Tsukiji Fish Market alone is enough to make the city a fish lover's ideal destination.
The capital city of Estonia is a lively food hub. Tallinn is well known for its dark rye bread, smoked sprats, and craft beer. Rosalie is a popular dish prepared from potato salad, beetroot, and eggs.
While making a list of renowned food destinations, you can't afford to keep Copenhagen out. It is the heart of Nordic food revival with lively café culture. Try out the smørrebrød, open sandwiches made from rye bread, cheese, and meat or fish.
The city is an aromatic spice haven with no shortage of lovely dishes. Try a tasty tagine cooked in a clay pot or the couscous dish, served with fresh mint tea.
Being the gastronomical hub of Italy, Bologna has been rightfully nicknamed La Grassa (the fat one). The city is praised for its fresh pasta, gelato, shakerato, and mortadella.
This city is home to grilled meat and red wine. You will find cuisines from the Mediterranean, Asia, Spain, and other places over here due to its diverse immigrant population.
Ho Chi Minh is known for its distinct street food and its dining establishments. The two most widely known Vietnamese dishes that you must try out are bahn mi and pho.
Next time you visit London, make sure to try out these fabulous combos – bangers and mash, fish and chips, Cornish pasties, and shepherd's pie. From Borough Market to Portobello Road Market, you will always find something new to try out.
Due to its rich ethnicity and cultural mix, Los Angeles has a rich assortment of global cuisine, especially Mexican and seafood dishes. It easily boasts of being one of the best food cities in the US.
One of the many dishes to try out in New Orleans is the Po'Boy, a sandwich filled with fried seafood with shredded lettuce and tomato served on French bread.
Find fresh seafood to your heart's content in San Sebastian. Located on the Bay of Biscay, you can drink as much Rioja wine as you want too.
The city of love cannot stay far from food lovers. Find French classics like escargot and croque monsieur to traditional dishes like crêpes and steak tartare.
The West Coast city is known for the Dungeness crab, abalone, and clam chowder served in a bread bowl. The city also has an array of some of the best coffee shops in the world.
Conclusion
Being a foodie, you must agree that tasting new dishes is an adventure. So, if you're dying to try some delicacies, hop on your flight and visit these wonderful destinations.