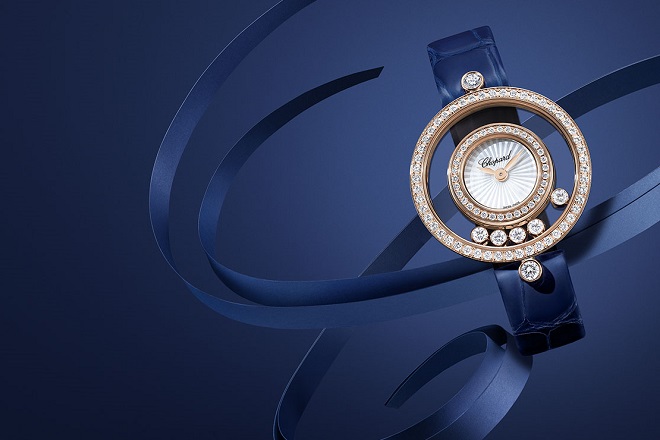 If you are looking to buy some luxury watches within your budget, then you should know there are several brands which offer luxury at its best with fewer prices. Fewer price does not mean buying a watch worth a hundred dollars; it means that it is cheaper than the lights of Rolex and other world-class brands. So, if you wish to buy the luxury watch which has a long history and also offers the best features, then you should buy the Chopard watches.
These watches have a long history of proving luxury to both men and women all across the world. It is a Swiss Luxury brand which has been manufacturing some world-class watches since 1860. The Chopard is well-known for manufacturing top quality ladies watches. The company does manufacture not only watches but also sells jewelry and other accessories.
The Best Ladies Watches by Chopard
The Happy Diamond

Chopard offers several watches for ladies. The top among them is the diamond watches. As Chopard is also a Jewry brand, you will find the induction of diamonds in their watches to be quite exquisite. These watches have navette-cut, baguette-cut and brilliant-cut diamonds on them. The Happy Diamond is the most iconic ladies watch with diamonds for ladies. These watches are an inspiration for ladies.

The Imperiale

The Imperiale series is another ladies wristwatch by Chopard. The most special thing about this series is the Crown-shaped dial. With lots of diamonds and a unique style, these watches are brilliant. With pink straps, the ladies who wear this watch will feel like a princess.

La Strada

If you wish to get a watch that signifies the 50's era, you should choose the La Strada series by Chopard. It signifies the 50's Italian cinema.  These watches have a unique style and shape.

Happy Sport

It is a watch that both men and women can wear. Chopard ensures that this watch offers elegance and style. It combines the most precious stones with a stainless steel body. It is unique and looks great.

L'Heure du Diamant

Another series which inspires the ladies the most is the L'Heure du Diamant. It is an art piece and a timepiece combined. The shiny diamonds with the black leather strap make it a perfect choice for ladies. Also, the oval shape makes it more appealing. These are available in 18K White Gold and 18K Rose Gold variants.
The Best Gents watches by Chopard
The Classic

The classic series by Chopard is an exceptional series which never goes out of style. These watches have a unisex design. These are beautiful, elegant and amazing watches. These watches also have automatic time movement which makes them a perfect Swiss timepiece. These are available in Yellow Gold, White Gold, and 18K Rose Gold.

The L.U.C

These are the mechanical watches. These watches have Swiss movements and the latest technology. These watches are excellent and are available in white gold and rose gold. The L.U.C Full Strike is an exceptional watch. It boasts the transparent crystal gongs which make it a unique timepiece.

Grand Complications

These are also some of the best chronographs by Chopard. These are the stylish timepieces that you can wear during a flight. These are also available in White Gold, Rose Gold, and Titanium.

Racing Stripes

Are you looking for the men's chronograph with stripes? You should get one of the watches in this series by Chopard. It blends style, passion and the features of a chronograph.  These watches have COSC-certified high-precision movements. These are for those men who like to drive on the road with class and style.

Métiers d'Art

Are you an art lover and want a unique timepiece? There are these watches that are a hallmark of art. You won't find any better watch than this which signifies art collection. These are the finest luxurious art timepieces. The Métiers d'Art will fascinate anyone who sees it.
Chopard is one of the oldest Swiss watch brands in the world. It may not be famous as Rolex, but certainly has the list of watches that will impress you. These are unique, stylish and out of the world watches. If you are looking for something unique, old durable and also cheap, you should get one of the Chopard watches.