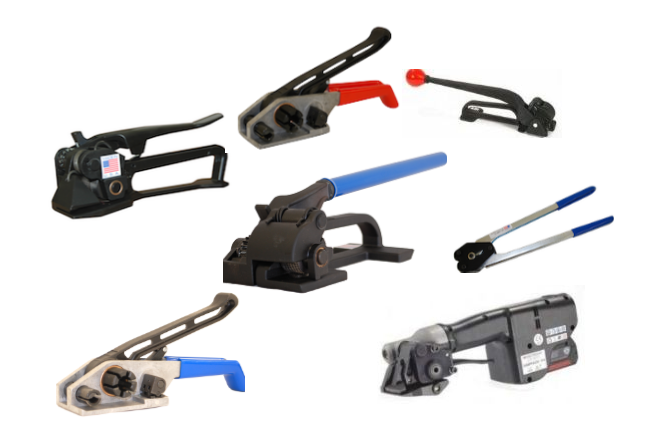 If you're a newcomer to the strapping industry, you're probably overwhelmed by the various components used with both the manual tools and high-tech automatic machines. We've broken down all you need to know about the products available to help you make a choice about what's the best approach for your task or business.
Ask yourself: 'How often will I use it?'
Unless you're going to need to strap a carton, crate or pallet very frequently, using a manually operated tool will suit your needs. If you're planning on performing this task every day, then it's worth investing in a strapping machine, which will boost your productivity and save you time.
Ask yourself: 'How big are my loads?'
Table strappers and arch strappers are your best bet if you're working with smaller cartons. For large crates and pallets, it's sufficient to strap them manually. If however, you'll be working with large volumes, horizontal and vertical pallet strappers will work for you.
Note strapping machines are also designed for specific industries. Printed media and industries using palletised loads will need to use specialized machines.
The type of strapping you use will also affect the method and tools you use to secure your items. Polyester cord strapping is secured with a plastic/metal buckle. All you need is a tensioner tool to correct the tension in the case of strap elongation or load settling. There are two main types of strap. Polypropylene is the most commonly used because it is cheap and versatile. It can be secured using the buckle/tensioner system, metal crimping seal or friction welded. Steel strapping is usually secured using metal crimping seals. A tool that crimps the strap can also be used.
Types of tools you'll need
A combination tool is a tensioner, sealer, and cutter in one device. First, the strap is locked, tensioned, and sealed. The combination tool then crimps the seal and cuts the strap from the spool. They can only be used for straps up to 19mm wide.
A safety cutter can be used on most plastic strapping, but steel straps need specific tools. The ones used in the industry are similar to metal cutting shears and bolt croppers. Sometimes steel strap cutters have rubber pads on either side of the blade.
The friction weld tool is another combination tool that can be used with polypropylene and oriented polyester strapping. It saves the operator time and reduces the cycle time while giving a consistent strap tension. It's ideal for high volume strapping of pallet loads and big crates.
A table strapper is a good option for medium volume carton strapping and bundling. It uses a polypropylene strap and friction weld sealing. It's fast and consistent.  The strap can be set or extended to any length, and it can be used on any item that will fit on the table. Because they are mobile, they are a good option if you only need to use them occasionally and they can be stored conveniently when not in use.
Side action strappers are a variation of the table strapper. The tensioning and sealing mechanism is mounted to the side of the table instead. They're useful in wet or dirty conditions because items won't fall into the tensioning and sealing mechanisms.
Arch strappers deliver the best performance when many cartons are needed to be strapped continuously. Some models feature roller tables and a receiving conveyor for heavy packages. They can apply multiple straps at pre-programmed positions and timings.
Pallet strappers are brilliant times savers. They come in various styles including a semi-automatic, lightweight, mobile unit. The operator manually feeds the strap from a probe into a tensioning unit. It's detected by a sensor and then the machine tensions, seals and cuts it. For higher volumes, a fully automatic unit is recommended. They are designed with an arch big enough to enclose an entire pallet load. Feed, tensioning, sealing, and cutting are performed automatically and they can be easily integrated into an automated packing line.