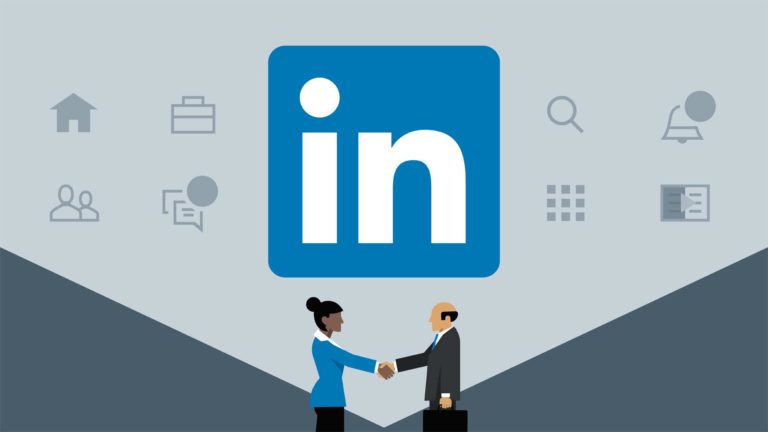 With the emergence of a global talent community, it is necessary for job seekers to be more involved in professional platforms like LinkedIn.
The International Labour Organization has reported an addition of 3.4 million jobs in 2017.
Though there is an increase in the number of jobs available, the job market has become exponentially competitive. At times like this, having a LinkedIn profile will surely help you in finding a new job or changing a current job as more than 90% of employers say they check out the LinkedIn profile of the individual before hiring them.
Check out the 7 effective tips mentioned below that will help you substantially enhance your LinkedIn profile –
1

Ask For Recommendations

It is important to have recommendations attached to your LinkedIn Profile. Make sure you get recommendations from people who know you well and can clearly explain your proficiencies.

For e.g. A recommendation from a senior colleague is a brilliant idea and will greatly enhance your LinkedIn Profile. Make sure the selected colleague has worked with you for at least 1 year and has clearly described your skills and professional aptitude.

An attractive LinkedIn Profile contains at least 5 recommendations. This is helpful in making sure employers notice you.
Guidelines To Follow A Good Recommendation :
The starting sentences of your recommendation must be catchy so as to grab the attention of prospective recruiters.
Your recommendation should show the extent to which you worked with the recommended and the relationship maintained during that period.
Ensure your recommendations portray unique proficiencies you demonstrated during your previous jobs, internships or services.
A good recommendation will make you stand out from the pool of job seekers. This will help employers in quickly identifying your potentials.
2

The Importance Of A Profile Picture

Selecting a profile picture is very important on LinkedIn as it is the first thing that anyone notices. It is your responsibility to make sure that first impression is positive.

No recruiter is going to hire people that don't exhibit professionalism. Your profile picture should, therefore, demonstrate your professional side.

A survey on LinkedIn indicates that employers choose individuals with professional profile photos over the ones whose profile do not contain any profile picture at all.
So what makes a good professional photo on LinkedIn?

It should be a clear representation of your appearance without any camera tricks or filters applied.
Your face, neck and shoulder regions should be clearly visible in the photo.
Make sure you wear a formal attire. This gives a positive impression to the recruiter.
Avoid including other people in your profile picture. You should be the only person in the photo.
3

Write An Excellent Summary

Your LinkedIn Profile should have a well-written summary.  It should also contain keywords (or search terms) through which they would land up on your profile, keywords such as relevant skills and certifications were done. Having an excellent summary will help the recruiters better understand how useful you could be to the growth of their organizations.

Here is an example of a good summary:

"As a Chemical Engineer, I've controlled effective operation of chemical plants, developed strategies for better manufacturing methods, and ensured the implementations of pollution control measures for environmental safety. I have actively participated in successful ventures in the petrochemical industry… with rising in profit levels. I love challenging milieus, and appreciate good teamwork."

This is an example of what a Chemical Engineer's summary should look like. The summary shows their ability to ensure successful completion of different tasks.

Keywords must be carefully selected as recruiters are more likely to be interested in LinkedIn profiles that contain relevant words and terminologies related to the field of study.
4

Open Candidates

This is a recent feature on LinkedIn which is ideal for individuals who intend to change their job from their current one.

You can indicate on your LinkedIn Profile that you are open to new job opportunities without letting your current employer about the same using Open Candidates. Here are the steps:
Click on the jobs tab on your LinkedIn page.
Turn sharing "ON".
Fill out the specific details as to what kind of job you are looking for and the position that you are interested in.
Recruiters can see your profile now as "Open To New Opportunities" which, at the same time, is not visible to your current employer.
5

Reorganize Your First 12 Endorsements

To enable employers to locate you easily, make sure your proficiencies have the high ranking on LinkedIn. Endorsements can help you achieve this ranking.

Ensure that you have an appreciable number of high-quality endorsements. Your first 12 endorsements should be relevant to your field of interest, to enhance recruiter's recognition of your profile.

Clearly, portray your skills by carefully rearranging your endorsements in order of relevance making sure your best proficiencies come first.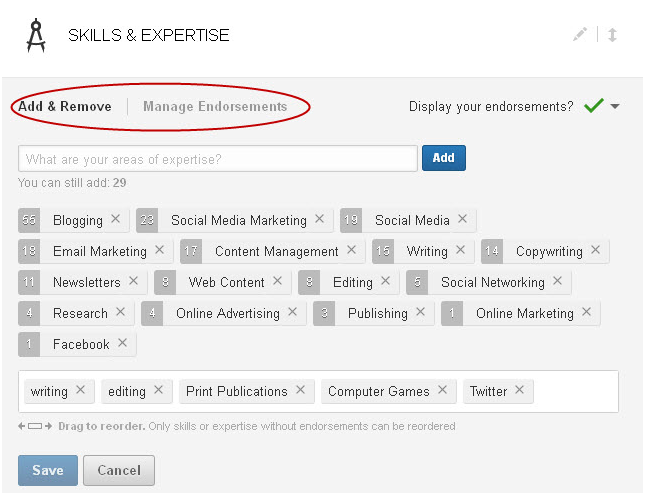 TIP: A high priority endorsement is the one from a senior colleague who understands your capabilities or your college professors who have seen your learning curve.
6

Craft A Catchy Headline

The headline of a LinkedIn Profile is very important in attracting potential recruiters to your profile. Use apt keywords when writing your headline.

A headline constitutes the first 5 lines of information on a LinkedIn profile and is easily visible to recruiters.

So, what should be included in a headline?
Make sure your headline highlights the value you will bring to the organization. Every company requires creative minds.
There should be no contact details in your headline.
The headline should be more to the audience than to you. Avoid being too personal in your headline.
For example, a good headline for someone in sales and marketing domain looks like this –
Increasing your sales by combining integrated media solutions with high precision targeting.
7

Personalize Your Connection Request

Be sure to clearly remind those you are linking with, of how you encountered them for the first time.

This is usually required in a situation where you don't have a close relationship with the people you are intending to link with.

For example, you might want to connect with a professional you met at a seminar or a sports event. You can remind them of how you two know each other by sending them a personalized connection request.

And if it's a LinkedIn user that you have never met, you can send them a personalized connection request stating as to why you want to connect with them.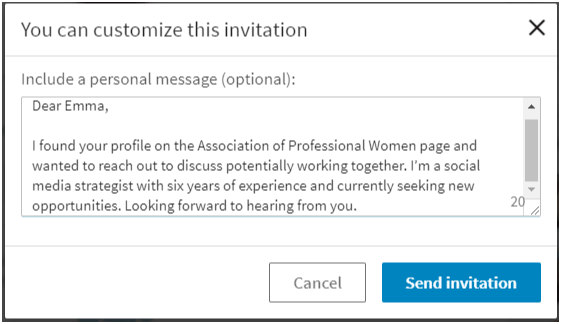 Applying the above tips will enable you to link with recruiters, and make your profile more noticeable. It'll also help in increasing your employment chances.
Interested in more tips like the ones mentioned above? Check out 'Top 33 LinkedIn Profile Tips for job seekers in 2017'.