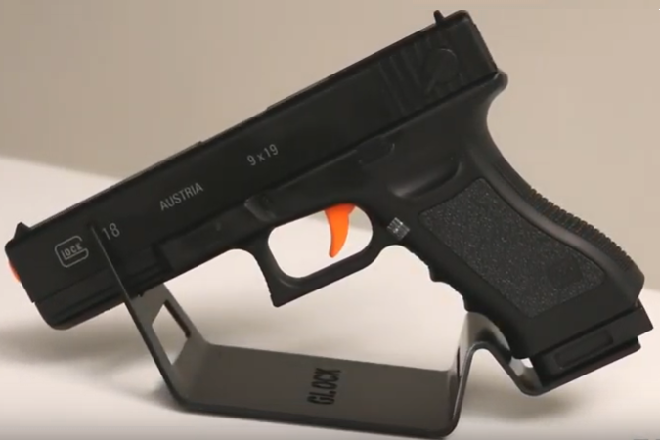 Gel blasters are quickly growing in popularity in Australia, providing a new, fun alternative to paintball and airsoft guns. Less messy and painful than a game of paintball, skirmishes using gel blaster is an awesome way for people who have previously been intimidated by the sport to join in on the action!
Gel blasters and their ammunition are also far more affordable than the alternatives out there. At TacToys, we offer a large selection of high-quality and affordable gel blasters that are perfect for beginners and experienced users alike. We have assembled a list of our 5 best selling TacToys Gel Blaster – options so that you can find the right fit for you.
SKD GLOCK 18
The SKD Glock can be used as either a semi our full automatic gel blaster. It has a magazine that holds approximately 30 gel balls, and the magazine can be removed and replaced quickly. With a firing power of about 150 FPS and a range of 20 meters or more, the SKD Glock 18 puts up a fair fight against the popular rifle-style gel blasters. It is a great option for users who want something that is small and easy to reload in a hurry.
M4A1 V8
The M4A1 V8 Gel Blaster offers the best performance right out of the box and is TacToys' most popular gun because of its value and how easy it is to modify and make it your own. It has an impressive firing power of around 250 FPS and a range of 25 meters and over, and both of these can be increased with available upgrades. The magazine holds a total of 200 gel balls, and the gel blaster can be easily switched between safety-mode and fully automatic. This is a great option for users who want a gel blaster they can upgrade as they become more experienced.
SIG P226 HOPPER FED
The SIG P226 Gel Blaster features a top ammo feed as opposed to using a magazine. It has a firing power of anywhere between 100-130 FPS and a range of 15 meters or more. This gel blaster is perfect for users who want the quickest and most simple reload option, because it is hopper-fed rather than magazine-fed. It has a less impressive firing range, power, and capacity than some of our other gel blasters, but its small size, weight, and simple operation make it ideal for beginners and hobby players.
SKD M1911
The SKD M1911 is the highest performing gel blaster when it comes to our pistols. It is fully automatic and hopper-fed, allowing for quick and easy reloads during skirmishes. This pistol has a firing rate of 150 FPS and a range reaching over 20 meters, so you'll be able to keep up with opponents who may be using larger gel blasters. All of the attachments are easily removable, so this is a great option for users who want to be able to customize their blaster.
SCAR V2
The SCAR V2 Gel Blaster is similar to the M4A1 V8, offering similar features but a few less options for customization and modification. It has a high-capacity magazine with an impressive firing power of 250 FPS and a range of over 25 meters, which can be improved further with optional upgrades. It features a safety switch and is fully automatic, making it both easy and powerful to use for people of all experience levels. This gal blaster is the perfect option for users who want something that works great right out of the box but might want to modify it as they get more into the sport.
All 5 Best Selling TacToys Gel Blasters are made with high-quality, durable materials and are great for beginning and experienced players alike. No matter what you're looking for in a gel blaster, this list has something for everyone. All 5 gel blasters are sold along with rechargeable battery, charging cord, a starter pack of gel balls, and safety glasses, so you'll have everything you need to jump right into your first skirmish. Buy yours today and finally see for yourself why Gel Blasters have become popular here in Australia!