Get all you need for site audit and optimization – with SEO PowerSuite tools!
SEO PowerSuite is a powerful search engine optimization software that helps to improve a website ranking and increase its search traffic and visibility on Google. The software pack includes four SEO tools: Rank Tracker, Website Auditor, Link Assistant, and SEO SpyGlass. Each tool addresses a specific branch of SEO improvements: you can track ranks on Google and do keyword research, hold website audit and optimize your web pages, spy on your competitors and adopt best practices in SEO, and do link building outreach to improve your site backlink profile.
Keyword research and rank tracking to observe Google competition.
Rank Tracker is one of the most comprehensive rank-tracking tools available on the market. With over 100 million keywords in its database, Rank Tracker checks keyword ranks across 500 different search engines worldwide, including Google, Bing, Yahoo, on both mobile and desktop devices.
You can track ranks of your URLs, images, videos; you can record history of your top-ranking keywords in SERPs, track their local ranks associated with geolocation and Google maps. You can look for your competitors' best keywords and track their rankings with no limits on the number of keywords. You can also set up a schedule to track your keyword progress automatically, with daily, weekly or monthly checkups.
Rank Tracker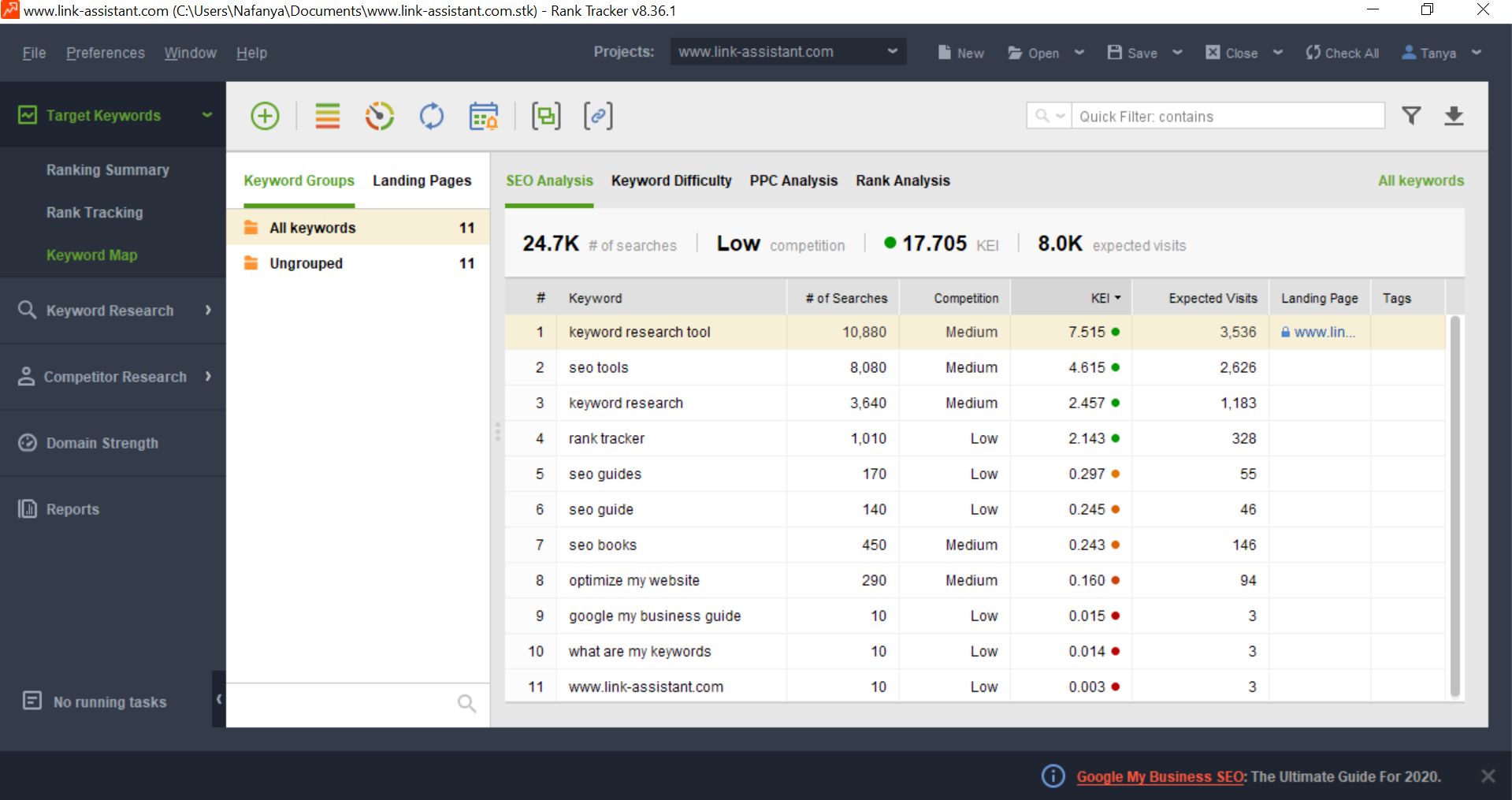 Fire up the desktop application, enter the URL of your site, add your major keywords, and create the project. The tool will collect your top ranking keywords, together with all its most important factors: organic searches, the ranking position of the keyword phrase across search engines of your selection (you can add your custom search engines from Preferences). The tool estimates the keyword difficulty: this is the number of searches to the competition ratio, which shows how difficult it will be for your site to beat your competitors in SERPs for this keyword phrase.
The workspace columns are customizable: filter out important factors by adding or removing the criteria necessary for your analysis – organic traffic, sessions and bounce rate, impressions and CTR. Press the filter funnel and leave only relevant keywords, segmenting them by length, intent, word count or specific vocabulary present in your keywords.
You can customize your search engine settings to track your ranking in any other search engine like Bing, Yahoo, Google Mobile, etc., and to adjust location to view your ranking as if from a certain location.
You can do competitor keyword research where you find top ranking pages, track your competitors' rankings, guess their keyword strategies, and to find opportunities to beat them in Google's top. You can track up to five competitors in the professional version of Rank Tracker.
Explore many keyword research methods to find your ranking opportunities: keyword gap, autosuggestion tools, related questions, Google keyword tools like Keyword Planner and ideas from Search Console, TF-IDF editor, etc.
The keyword mapping tool will help you organize all your keywords across landing pages and to track how the pages and keywords perform online.
Find and fix on-page and site-wide issues.
Website Auditor is a SEO auditing tool, aimed to find and fix onsite and on-page issues. Simply launch the Website Auditor and enter the URL, and get a summary of issues and warnings. Click on the issue to find out which pages have been affected and how you can fix them. Conduct onsite as well as on-page audits to ensure that some specific pages of your website are optimized according to your target keywords. Get the help of TF-IDF Analysis and Content Editor to optimize your pages' content right inside the tool.
Website Auditor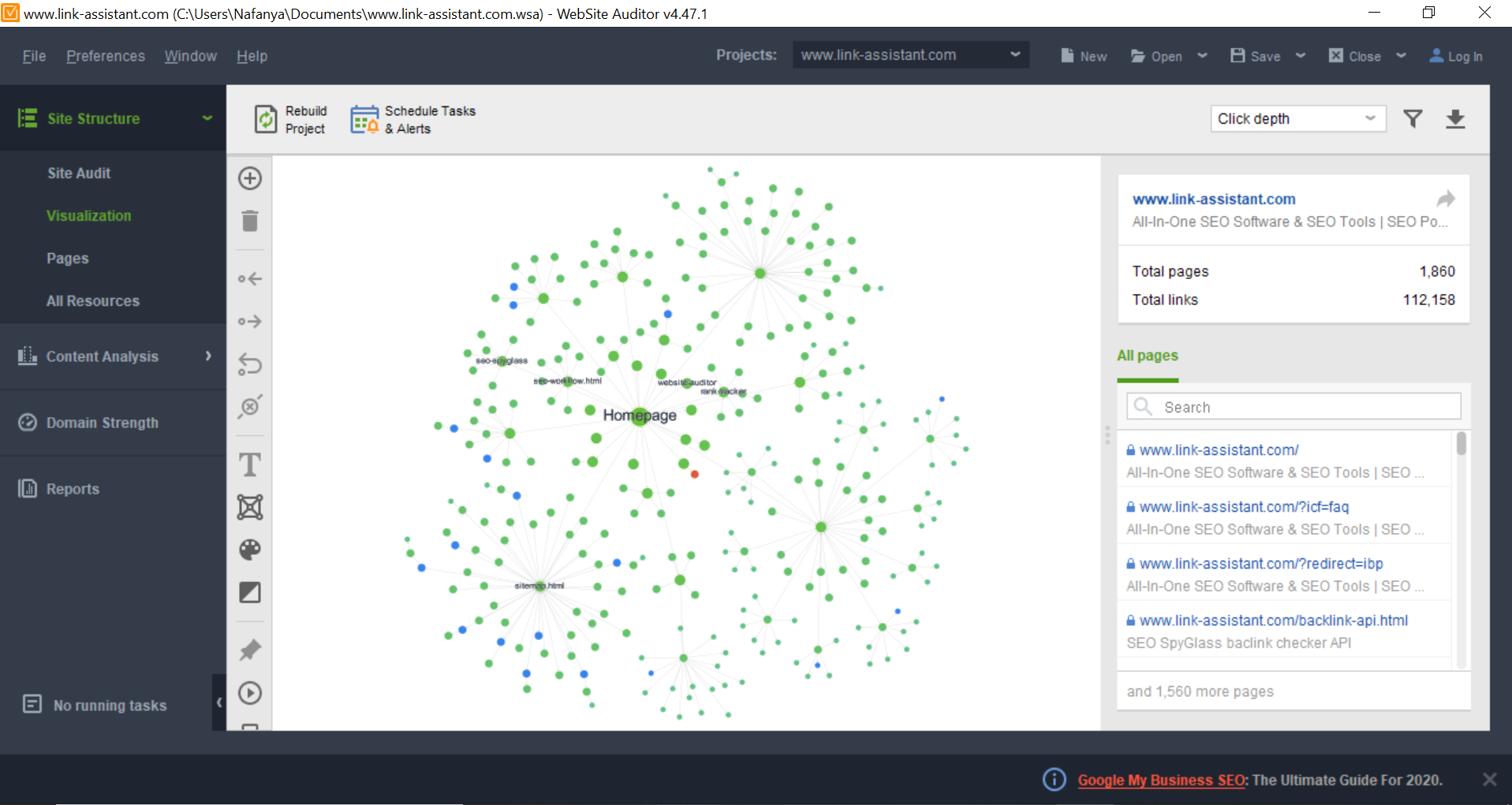 Start the Website Auditor and enter the URL you would like to analyze. In a while, the tool will bring all data under the Site Audit module: indexing issues and crawl errors, pages not found, broken links, long redirect chains, dynamic URLs, etc. The tool will check your on-page SEO factors and report on empty title tags and meta description, duplicates in titles. Additionally, you can check the mobile-friendliness of your pages.
If there are several language versions of your website, the tool will analyze if localization is SEO-friendly.
In addition to site-wide SEO checkup, Website Auditor analyzes separate pages in the Page Audit module. The page SEO checkup will bring you tons of data about the optimization rate of separate pages, such as their InLink Rank, traffic, etc. Check your pages HTTP response status, find backlinks to the pages, find if they have any structured markup.
Go to All Resources module to inspect all resources of a page to find out how fast the page loads, what resources are too heavy, or if some elements contain errors that don't let the page load correctly.
There are webmaster's tools that help you easily generate the Sitemap and Robot.txt file and load them via FTP.
Visualize all your site architecture, check how they are interlinked, and detect orphan pages.
There is the Content Analysis module that helps optimize your pages' content with keywords and SEO elements. Here is the Content Editor where you can add or create a new page and start editing it, with optimization tips suggested, to see how it improves in terms of SEO. You can use the keyword map to assign keywords to particular URLs and observe how their ranking improves thanks to some on-page changes.
Build up your backlink profile and spy on your competitors' link building.
SEO SpyGlass lets you analyze the backlink profile of your site as well as your competitors' backlinks. This is a great way to understand how your competitors are ranking so that to win their best backlinks, and increase your own search traffic. You can use the domain comparison tool to see how your link profile stacks up against your competitors.
SEO SpyGlass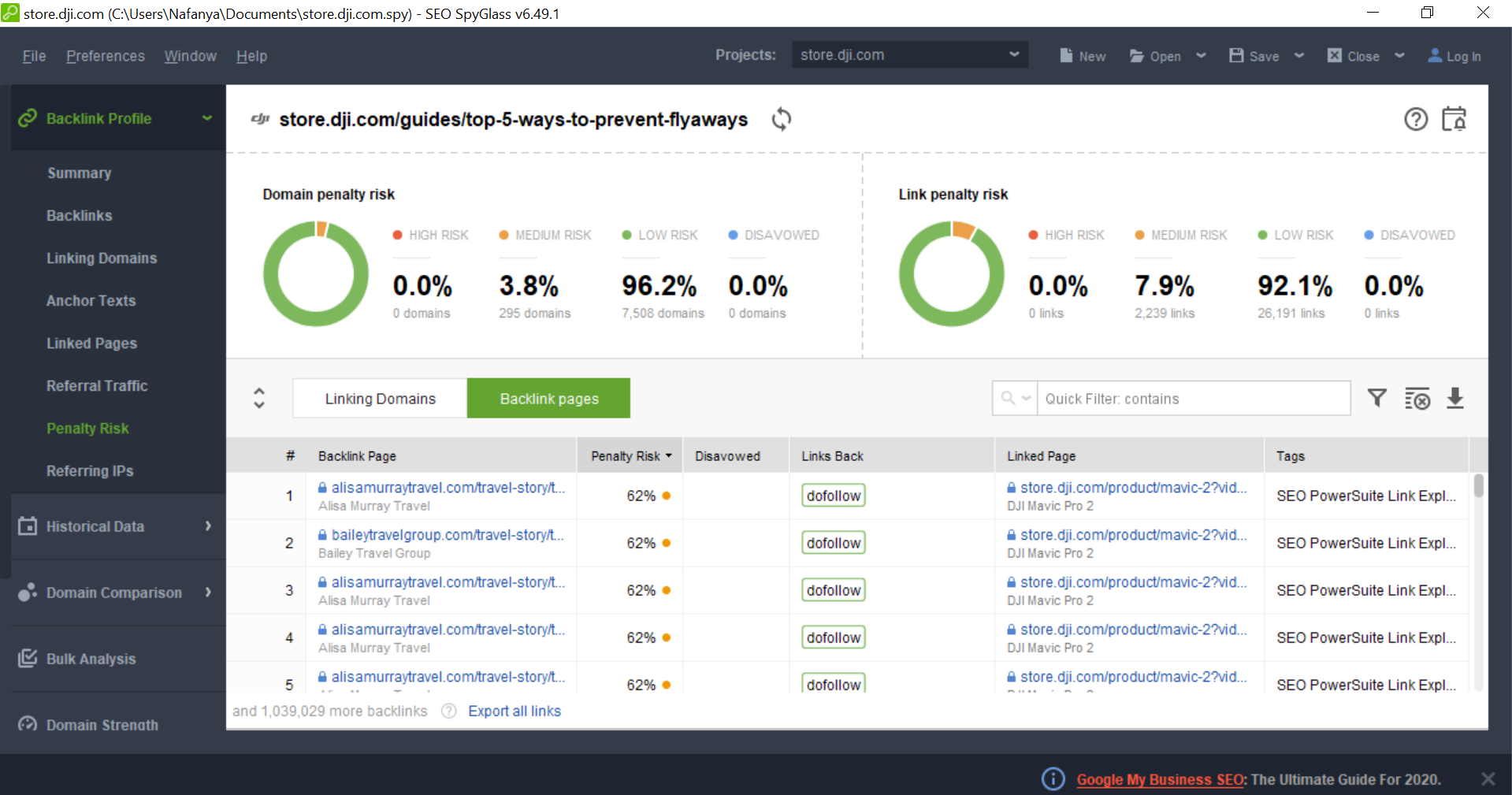 Launch the tool, enter the URL and examine your linking history: check out the new backlinks and lost backlinks graphs and their referral traffic. With the help of well-meditated link-building strategies, you will be able to improve your pages InLink Rank and enhance the overall Domain Strength. Pay attention to spikes in the progress graph to prevent negative SEO techniques that can disrupt your site reputation and result in Google penalties. The tool estimates the penalty risks and point to those backlinks that can be punished by Google manual actions. If you want to remove some backlinks that might harm your site, close them from the search engines with the Google disavow tool. The tool in SEO SpyGlass lets you collect bad backlinks and quickly export them to compile into one disavow file and submit to Google.
Do competitor analysis to find out their link-building strategies and techniques that you probably can borrow for your website as well. There is a Bulk Analysis that allows analyzing many competitors at once. Compare your domains by total backlinks and linking domains, number of dofollow links, link intersection etc. Pay attention to anchors, their quality and diversity. You will surely find tons of new opportunities for your link-building schemes that will strengthen your domain.
Outreach to other sites to build links to your pages.
Link-Assistant helps you build and manage a targeted outreach list. Look for link-building prospects, check the prospect quality, send bulk messages, and manage backlinks you would like to keep from the prospect.
Link Assistant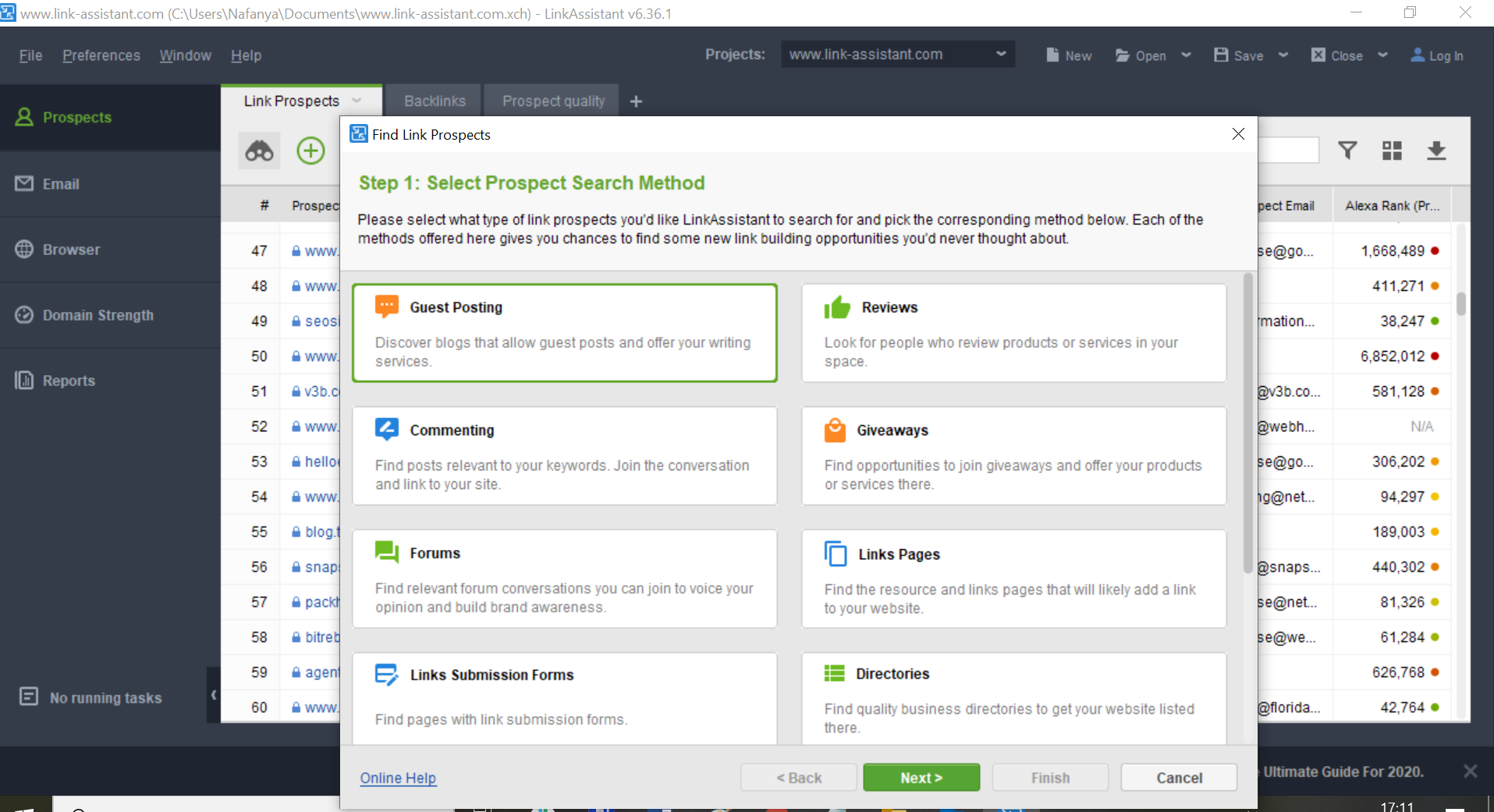 Launch the application and enter the URL of the webpage you want to build links to. Choose what type of link you want to build: guest posts, reviews, link pages, link submission forms, directories, topical blogs, and even your competitor backlinks from whom you might be able to get a backlink as well. Enter the target keywords, and you will get a complete list of websites with Domain and Page authority along with the contact information of the sites.
Configure your e-mail client settings in Link-Assistant and proceed to outreach. Filter those websites you want to reach, right-click on the contacts and select the template (or create your custom template), fill out the e-mail details, and there you go!  Link-Assistant will start sending your emails to those websites immediately, or you can schedule it for a planned date. Manage communication right in Link-Assistant, add link prospects, and verify existing backlinks.
Besides, you can use the in-built Browser to view a page inside the tool or send a comment to a forum or a blog right in there.
Advanced functionalities for professional SEOs.
The suite has everything you need to get top rankings on search engines and leverage your traffic and sales boost.
SEO PowerSuite tools can be integrated with your Google Analytics and Google Search Console to pull down additional data about your links and traffic.
To automate your workflow, use schedules and alerts to get audit reports regularly or when some extraordinary activities happen on your site.
The enterprise edition allows using white-label to create branded reports and to print or share them to customers via e-mail, which is a great tool for SEO marketing agencies.
Free, Professional, and Enterprise Versions to your choice of functionalities.
You can download a free version of SEO PowerSuite, or try a one-week trial version with full-feature functionality.
SEO PowerSuite provides you with everything to run your website like a professional SEO. Make the most of SEO and stay in Google's top.