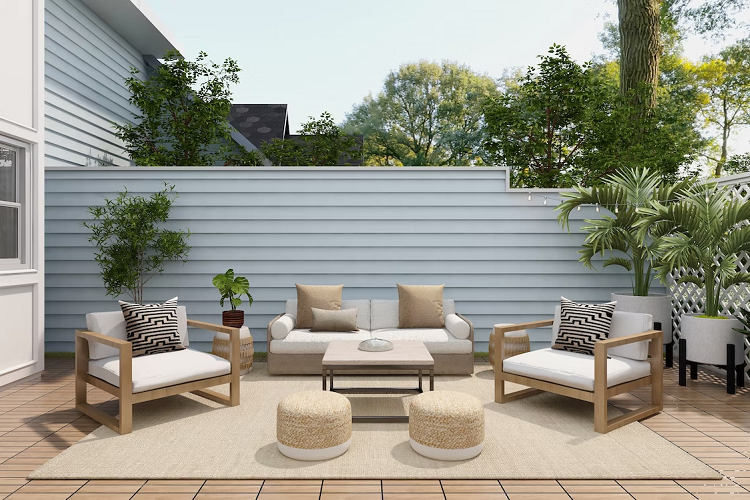 Welcome to the wonderful world of outdoor rugs! A game-changer in the world of outdoor decor, these versatile and stylish floor coverings are not only incredibly functional but also add an element of elegance to your backyard or patio. Whether you're looking for a cozy spot to entertain guests or simply want to spruce up your outdoor space, there's no denying that an outdoor rug is a must-have accessory.
And with so many options available on the market, from weather-resistant materials to trendy designs, it can be tough to know where to begin. But don't worry – we've got everything you need right here in this blog post. So sit back, relax, and get ready for some serious inspiration as we dive into all things outdoor rugs!
Choosing For The Ideal Outdoor Rug
An outdoor rug can make a big difference in the overall look of your patio or deck. It can also help protect your floor from dirt, scratches, and wear. But with so many different types and styles of outdoor rugs on the market, it can be tough to know which one is right for you. Here's everything you need to know about outdoor rugs, including how to choose the right one for your space.
Function: The most important thing to consider when choosing an outdoor rug is the function you want it to serve. Do you want it to simply add some color and style to your patio? Or do you need something more durable that can stand up to heavy foot traffic? Once you've decided on the function of your rug, you can narrow down your choices by material, pattern, and color.
Patterns: From geometric prints to floral designs, there are literally thousands of different patterns of outdoor rugs to choose from when it comes to outdoor rugs. The key is finding one that complements the overall style of your space. If you have a modern patio, for example, a
Material: Outdoor rugs are made from a variety of materials, each with its own benefits and drawbacks. The most popular materials are polypropylene, nylon, and acrylic. Polypropylene is the most affordable option and is resistant to mold and mildew. However, it can fade in direct sunlight and is not as durable as other materials.
Nylon is more expensive than polypropylene but is more durable and stain-resistant. It also doesn't fade in direct sunlight. Acrylic is the most expensive option but is also the most durable. It's resistant to fading, staining, and mildew.
No matter what kind of outdoor space you have, there's an outdoor rug pattern that's perfect for it. So take your time browsing through all the options until you find the one that feels just right for your home.
Color: Outdoor rugs are available in a wide range of colors, from natural earth tones to brightly-colored patterns. When choosing a color for your outdoor rug, consider the overall  look you want to achieve. For a more muted and natural look, choose an earth tone or cream colored rugs. For a bolder look, opt for a brightly-colored pattern. You can also mix and match different colors and patterns to create your own unique look.
Placement: When it comes to choosing an outdoor rug, placement is key. You'll want to choose a spot that is level and free of debris. If you're placing the rug on a patio or deck, make sure that it's clean and dry before you start.
Once you've found the perfect spot, lay down your rug and arrange your furniture around it. It's important to leave enough space around the edges of the rug so that people can walk on it without stepping on the grass or dirt.
Maintenance
It's no secret that rugs can be a bit of a pain to keep clean. But when it comes to outdoor rugs, the stakes are even higher. Not only do you have to worry about dirt and mud, but also about rain and sun damage.
The good news is that there are a few things you can do to make sure your outdoor rug stays in tip-top shape. Here are a few maintenance tips:
Vacuum regularly – This will help to remove any dirt or debris that has become embedded in the fibers of the rug. Be sure to use a vacuum with an attachment designed for outdoor use.
Brush off any loose dirt – If there is any loose dirt on the surface of the rug, be sure to brush it off before it has a chance to set in. A stiff bristled brush will do the trick.
Spot clean as needed – If you spills or stains, don't wait! Spot cleaning as soon as possible will help to prevent them from setting in and becoming difficult to remove.
Use a protective spray – There are many different types of spray available that can help to protect your rug from weather damage, stains, and more. Be sure to read the labels carefully and follow the instructions before spraying anything on your rug.
Store indoors when not in use – When the weather is bad or you know you won't be using your outdoor rug for awhile, it
Conclusion
Outdoor rugs are a great way to add style, comfort and protection to any outdoor space. With the right knowledge about types of materials, sizes, patterns and other features such as UV resistance, you can choose the perfect rug for your patio or deck. From fun area rugs to textured runners designed for extra traction in high-traffic areas, there's an outdoor rug that will fit your lifestyle perfectly. So get shopping and enjoy adding some new life to your favorite outdoor spaces!