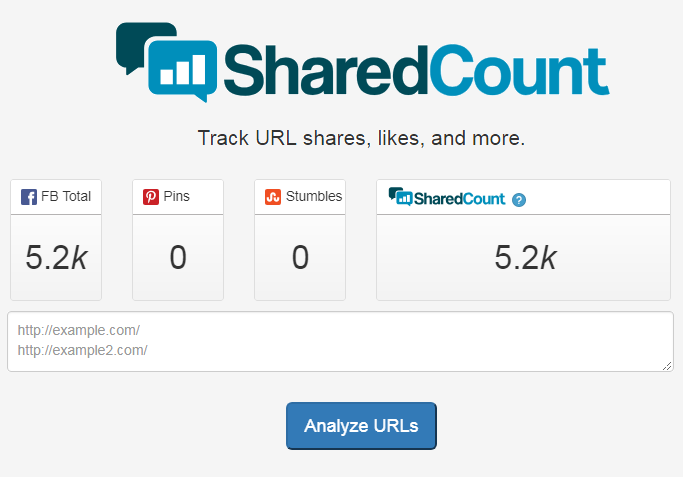 In an online business world where competition grows tighter by the day, you need the best brand messaging. You need to design a marketing campaign that will always give you an edge against relevant competitors. Social shares today play a significant role in promoting brand awareness. Even so, you do not design a campaign and take a rest. You ought to evaluate the reputation you have and monitor your progress often. SharedCount is an incredible social media analytics tool that allows you to grow your business and realize your dreams online.
It is with no doubt that social shares can spread a brand message to a global clientele. You can easily get huge popularity over a short span of time if you work on your marketing methodology right. However, you need to monitor and evaluate your progress to grow your business.
How to improve your brand messaging with SharedCount
---
Catchy Headlines
When working on an SEO campaign, the headline of your posts is one of the factors you need to focus on. It is an important element that can determine the quality of your social content. Most importantly, it can drive web visitors to your site or off. In this light, you need to use the monitoring tool to determine what web visitors are talking about online. Understand whether they are impressed with your headline, content, videos, or images by tracking your shares.
With that in mind, it will be easier to design social content that attracts the right traffic to your business. Note that sharedcount tracks your likes, shares, tweets and much more. You only need to enter your URL to learn what has been shared, retweeted and to understand bookmarking. Currently, the tool works on different platforms including;
Twitter
Pinterest
Facebook
Google+
StumbleUpon
Effective Visuals
Images and videos are an excellent way of promoting your products and services online. However, you need to know whether the pictures and videos you upload are effective. With the monitoring tool, you can easily tell whether your product is loved or not. The math is simple, the picture or video that attracts the most likes, shares or retweets, means you have the right online community by your side.
If the visuals you have are not performing based on the results you get from social media monitoring are not pleasing, then you can start improving your visual brand messaging. Design a campaign that will impress your target audience to grow your organic reach. Utilize irresistible content while highlighting your brand. You can also consider professional shoots and themes that appeal to your target audience. Monitor your shares once more to determine whether you are campaign is working as desired or not.
Understand industry issues
Sharedcount also helps you to understand industry-related issues. It is imperative that you work on a campaign that is beneficial to you and your target audience. If the content on your web page is entirely self-promotional, that is irrelevant content. It won't promote your brand over a long haul. Therefore, carry out a little research, monitor your progress and learn about the latest advancements in the industry.
The analytics tool will enable you to learn more about what is trending and what web visitors are looking for. With this, you will have an idea of what consistently drives traffic to your website. You will also be better placed to work on a solution by creating relevant content for web visitors.
Schedule your posts
One of the best ways to enhance your brand messaging is by scheduling your posts. Each social media platform has a different peak time based on its followers. For example, Facebook has a higher engagement between 1 and 4 pm and even more over the weekends. Twitter, Instagram, and other platforms also have their own time engagements. For this reason, it is wise that you create a solid system to design a plan that keeps your business on track. You can only achieve this by tracking your shares online.
Once you know which content, image or video has the most shares, you can share it at a time with the best engagements on different platforms. By doing so, you will promote your products and services as well your brand seamlessly.
Identify common threads
Once you have assessed your content and you know which content is shared most, you need to identify common threats. It is more likely that your posts have something similar whether it is industry focus, style, or subject. Understand a common theme amongst competitors and web visitors. For example, if your products are energy drinks, you can consider sharing images and videos that relate to different sports. It will resonate very well with your target audience. Your brand will not only link with the right audience, but you will also understand more about related events, regularly share videos and images that promote your brand.
Note that social media offers room for open feedback and comments. You will get positive and negative comments to help you make wise and informed choices. Sharedcount gives you the insight to develop a marketing plan to enhance your brand messaging.
Conclusion
Social media is an incredible and powerful marketing tool. With a thorough analysis with sharedcount.com, you can consistently understand more about your social shares. This will help you to design a marketing campaign that yields excellent results in promoting your brand message.