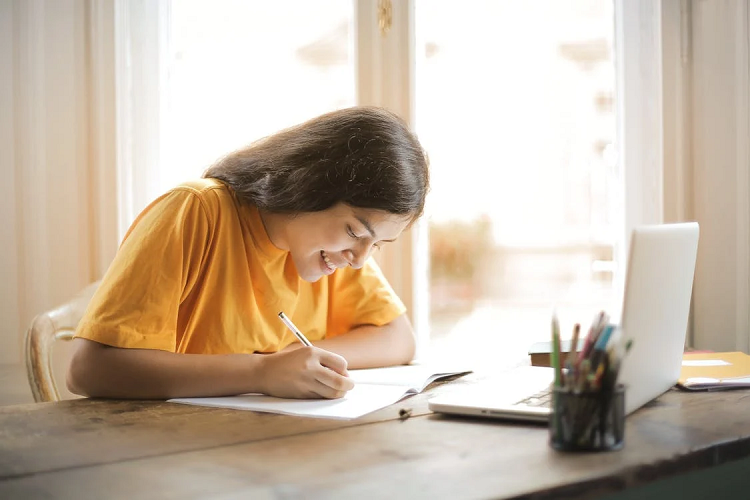 Whether you are writing about yourself, a scholarship essay, or a personal bio for a job application, finding the appropriate words to describe what makes you special can be difficult. You might have read relevant pieces or explored other sources to get an idea.
There might be some concepts in your mind but not a clear picture to devise a purposeful piece. Worry not because we have included all the major tips to help you with it in the best way possible below:
12 Tips to Effectively Write about Yourself
Write about yourself can be tough, here are some tips to write a paragraph about yourself effectively.
Create a Rough Outline
To make sure that nothing important is missed, you must properly organize your information. Answer the questions you have asked yourself truthfully in writing. Be concise but accurate. Avoid unnecessary pauses and make an effort to mention everything that should be addressed. Try to add a spiritual touch to your family history when you are discussing it.
Don't just give the reader the facts; make them feel what you have written. Describe the important people in your life who had an impact on you. Give it a sympathetic and unique spin to grab the reader's attention. Describe individuals and organizations accurately and discuss any positive or negative experiences you had briefly. Your outline should have all these essential points aligned.
Introduce Yourself Properly
You need to come up with the major ideas for your write-up before composing it. Asking yourself the following crucial questions will help:
Your kinship history
Academic history and qualifications
Challenging circumstances
Memorable occasions
Your objectives and achievements
If you think about it, you may come up with the notion to give the reader the information sequentially. It aids in making decisions on how to put together organized and insightful content.
Divide your inquiries into subtopics for a thorough examination. Select the elements that a strong personal essay must have. This method is advantageous since it enables you to reflect and obtain important data. It does the content organization for you and aids in making logical connections.
Write with a Clear Objective in Mind
You cannot create an excellent piece without having a clear purpose in mind. You need to be mindful of the readership and goal of your work. You must share such motivating events with children if you wish to inspire them with your story. Make an effort to provide inspiring concepts.
Share the lessons you took away from difficult circumstances. In a similar way, the type of audience you select will determine how your paragraph is structured. You must add value to your material for the reader to take away something. You must already be familiar with the objectives for that reason.
Stay Realistic
Your content should not contain vague concepts and made-up scenarios. Avoid using terms like "I wonder," as the reader will get the wrong idea because it seems unrealistic. To take an effective stance, mention the facts and your personal experiences. It shouldn't seem like a waste of the reader's time.
He must stand to gain something positive from your writing. Words have the power to inspire readers. Make it worthwhile if you want to impart wise counsel or information that has transformed your life. Give people a purpose and inspire them to work harder. Someone might feel heard if you share your personal story.
First-Person Writing
Write from your own point of view because you are telling your own story. You can tell your story aloud. You can give a summary of the lessons you took away from your experiences. In the way you respond to the challenge, use active voice and the pronouns "I" and "me" frequently.
Do not be scared to express emotion if you put your heart on your sleeve. Your efforts to convey your own personality will have a significant impact on the scholarship or admissions committee.
Use Impactful Expression
Instead of expressing a random thought, say things that have real meaning. You are composing an autobiography. It ought to be something special and in demand. Sharing personal information is highly advantageous. It helps you become vulnerable and eliminates all of your concerns. Positive feedback inspires you to take on more in life.
You have the opportunity to consider your prior experiences through writing. You employ a realistic analysis of the situation and gain knowledge from your errors. Writing personal tales is the finest way to get answers to many questions you may have had in the past.
Include Your Ambitions
A quality life is impossible to lead without a purpose. One can improve greatly by training themselves via adversity. You work hard to achieve a decent life, your ideal job, or anything else that is important to you. You pick up a lot of knowledge that can help you perform better. Include the hardship you underwent in order to succeed.
Write about your aspirations for the future and how you intend to meet the requirements. Writing about your aspirations inspires people to put in a lot of effort. You encourage them morally to maintain their self-confidence. It must shed light on your own motivations.
Be Modest
Even if you are really talented or experienced, you want to come across as approachable. Do not boast in your writing. List your successes and accomplishments, but balance them with more modest wording. You must sound pleasant to the reader. The reader will have a negative impression if the article implies that the person is flaunting something.
He could not believe what you are saying and assume that you are simply making things up. Your write-up will appear compelling if you express gratitude for what you have. It makes the impression that you have a very humble and impressive personality.
Be Honest and Vulnerable
Don't be hesitant to let your essay reflect your personal qualities, struggles, and experiences. The scholarship and admissions committees want to know how you can grow personally and how your experiences have helped you do so.
The best stories can be told with honest writing. Even if you are writing to discuss your life in general with others, add some emotion to make the readers feel involved. Your writing should be compelling and offer the readers something worthwhile to read.
Describe Your Talents Skillfully
Give clear examples of your skills and talents. What qualifications, abilities, education, and skills do you possess? Your purpose for writing the paragraph decides the significance of demonstrating your skills. If you are writing it for a cover letter, you will need to give your best effort.
Keep your attention on abilities and capabilities that have a direct connection to the position you are applying for. Even if leadership positions, extracurricular activities, and other sorts of exceptional performance could be valuable to you personally, they might also be completely unimportant. Thus, stay focused on your purpose and write as per the demand.
Avoid Cliché Phrases
Your writing should be original and compelling. Avoid using overused terms to describe your personality, which virtually everyone does. By including examples and unique experiences, you can present your information in a distinctive way. Remain concise and leave out all the extraneous information.
Avoid repeating the same material and refrain from dragging it out. To get inspiration, look at the relevant examples to observe how people present their details. It will point you in the right direction for bringing something different and appealing.
Keep it Brief but Quality-Assured
Write briefly about yourself while including all the crucial details. You do not want your work to be remembered as the one who used a half-page of wordy prose when everyone else only used a few phrases.
Just be careful not to overfill your paragraph with tedious details. To make the reading experience delightful for the readers, maintain the quality of the entire content. Write precisely what needs to be written and deliver a valuable contribution.
Proofread Your Work Carefully
You will surely not want to make any errors when introducing yourself in a paragraph. It presents your character and credibility. You can use a variety of programs to check your writing for grammar and punctuation. You can hire a professional proofreader to check your work. It enables you to review the written material once more to identify any areas that want improvement.
It is among the most crucial procedures for achieving the intended result. If you don't proofread what you have written, it might have errors that you previously missed. It's possible that you overlooked any crucial information or anything else important. So, make sure to modify and review your writing before submitting it.
Conclusion
Writing about yourself might seem a bit tricky but you can easily perform this task if you follow the tips shared above. If you approach it in a well-thought-out manner, you won't have to deal with any uncertainty. Share your best facts to make the entire paragraph worth reading. You can generate a huge impact with a paragraph if you compose it correctly.