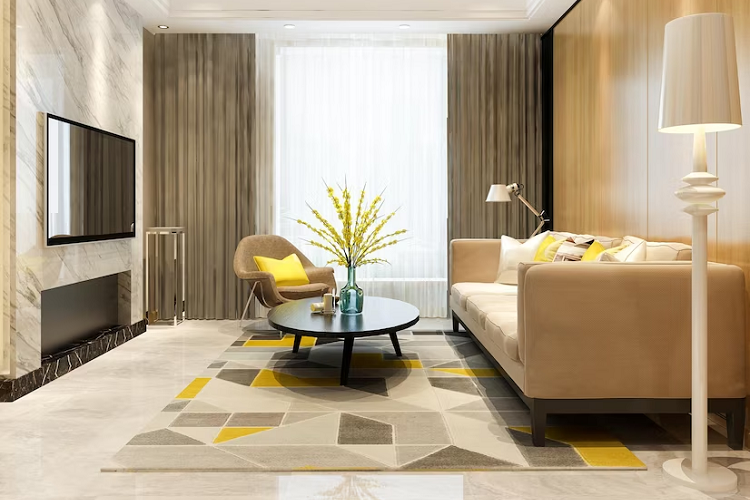 Rugs come in a variety of shapes, sizes and materials to suit any home décor. From traditional Persian rugs made from wool or cotton to modern shaggy rugs crafted from synthetic fibers. There are many types of rugs available in the market with different materials, colors, styles, sizes, patterns and shapes.
Natural fiber sisal and jute provide a durable option that is perfect for high-traffic areas such as entryways or hallways while luxurious sheepskin adds an element of luxury wherever it's placed. For the ultimate in softness, consider investing in an area rug made with silk or velvet – perfect for adding texture and visual interest without compromising on comfort.
Carpets and rugs are important parts of the house, but styles change over time. In this era, style and nature is the main priority of every human being. We asked many interior designers about the carpet and rug trends you like and want to use in most places over the next year.
Rug Colors from The Love of Nature
Warmer natural colors will be the most popular next year. We expect to see a lot of earthy colors like golden yellow, olive green, warm rust, and clay tones, which always help make a place feel warm, welcoming, and full of life. When it comes to color, blues, corals, greens, and neutrals from the earth will continue to be a big trend.
Different Types of Rugs
I've recently been interested in carpets with unusual shapes like scalloped edges, circular shapes, cutouts, notched edges, squiggled profiles, or anything that doesn't look like a typical rectangle. They look good with round or quirky furniture.
Homeowners choose a unique design mostly connected to nature, which can be anything from a geometric pattern to an abstract one. I am here to present the most modernized and popular choice for most people. The six different types of rugs are as follows.
Rugs Designed in a Color-Block Design
In the future, carpets with blocks of different colors will be the norm and most wanted choice of most people. Such beautiful colored chequered area rugs with colorful patterns are used as the main design element to tie everything in the room together and serve as the main point of interest. If I talk about quality, then these rugs are the best modern area rugs.
Hemmer Abstract Aqua Area Rug
Certain patterns and classic designs inspired this aqua area rug's Art with complex solid patterns of thread. It gives your elegant room a nostalgic feel. This 0.75-inch-thick area rug is made by machine from 100 percent wool.
Perfect for lounging in modern living rooms or sinking your toes when you wake up. This sturdy rug with a cotton rug pad keeps it from shifting and sliding and keeps it more soft and elegant.
This black and white area rug with a geometric pattern will add a modern touch to your stylish home. This machine-woven polypropylene area rug was made in Egypt, and it can't be stained or faded as the colored thread used in it is of the highest quality.
It's great for modern living rooms and patios where spills and stains happen. This sturdy rug with a cotton back works well with a rug pad to keep it from shifting and sliding.
Abstract Handmade Tufted Pink Area Rug
The way this series is made is similar to how tie-dying is done. To get the coloring effect of water, monochromatic tones are presented by vivid patterns and colors that vary in their saturation degree. These light, hand-hooked items can go in several casual living spaces.
Hand-Knotted Cotton Geometric
With this diamond-patterned gray area rug, you can give your room a fashionable mid-century look. This area rug is made by hand from a mix of cotton and has a pile height of 0.5 inches.
It is perfect for lounging in modern living rooms or sinking your toes when you wake up. This rug is easy to clean; you can vacuum wipe out any spot or stain. However, a rug pad is recommended to keep it from moving around.
This beautiful rug gives your floor a surprise touch of style. This rug is made of thick loops of soft, making it comfortable to walk on and a glamorous and one-of-a-kind beautiful piece of Art.
This light gray color marvel rug can be used in any room of your house, whether your style is eclectic or simple. If you laid it out in your master bedroom, you could make it the space's centerpiece by using it as a decorative accent.
Home Areas and Rugs
There are many different types of rugs available for those looking to add style and warmth to their home areas.
Patios and decks are great places for outdoor rugs. With the help of an outdoor rug, you can transform your deck or patio into a cozy and welcoming gathering spot for friends and family. It does the same thing as an area rug but can withstand severe weather and is waterproof.
Most outdoor carpets are made of synthetic fibers that are very strong and don't break down when exposed to UV light.
Putting a rug pad under the outdoor rug will help protect it. To clean it, vacuum it and remove stains like an indoor rug.
When winter comes, bring the rug inside to keep it in good shape until the next season.
Because it is durable, an outdoor rug can be used inside, especially in areas with a lot of foot traffic.
Runner rugs work well in hallways, kitchens, and other places with limited space.
A runner rug is a long, thin rug that works well in small spaces like hallways or kitchens. It is usually square or oval. This particular rug category is ideal for protecting flooring in high-traffic areas while adding a dash of color or pattern to limited space.
Runners can be up to 12 feet long and come in many patterns, fabrics, and styles. They can also have tassels or fringe for extra decoration.
These are Ideal for putting on top of other rugs as an accent and in the foot traffic area.
Almost every room in your house would benefit from adding one of these hand-knotted green area rugs. Hardwood and tile flooring will seem more welcoming, and your whole ensemble will be set.
Naturally dense and form-retaining even when wet, and the value is 0.75″. Its plush pile height makes it a perfect option for creating a welcoming atmosphere in the bedroom, living room, or anyplace else it's placed.
Sitting at the dining table is the main reason to have a rug in the dining room. The important thing is to check and see whether the chairs can still be removed from under the table and placed in a comfortable position on the rug even after the table has been removed.
Placing a rug in the living room is harder, but it depends on space and furniture layout. Living rooms of varying sizes have three primary options:
Tiny Living Rooms: You can anchor a 5×8 foot area rug that rests six to twelve inches in front of the couch while still having enough room to move around the furniture, or you can go with a larger rug that encompasses all of the pieces to make the room seem more cohesive.
For Mid-Sized Rooms: use an 8′ by 10′ rug and arrange your big, anchor furniture, so just the front legs are on it.
For Larger Room Rug: A 9′ by 13′ rug may frame a larger room. Put all the furniture on the rug. To avoid stepping on and off the rug, provide space around it. Employ contrasting carpets to highlight individual seating areas within an open floor plan that also includes a dining area.

Rugs for Entrance
A doormat's primary use is as a place to clean your feet before entering the house, but it may also serve as a decorative accent. They are standardized in size and may be found in various materials, coir being one of the oldest and most often used.
Change your doormat with the changing seasons, or use one with a lovely message to warmly greet visitors. It's a low-cost enhancement that makes your home cozier, enhances curb appeal, and facilitates cleanliness.
Wall-To-Wall Carpet for Bedrooms and Basements
In the last few decades, there have been a lot of popular alternatives to wall-to-wall carpeting in every room of a house. These include exposing hardwood floors and using beautiful tiles.
Wall-to-wall carpet is still a good choice for some interior spaces, like bedrooms and finished basements. It is warm and comfortable because of its soft texture as well. It is the most expensive option because it needs to be put down and taken up by a professional.
Rugs for Wooden Stair Treads
Stair runners are durable and make climbing and descending easier, and they might make your steps safer and better.
Depending on the color, style, and comfort level, stair runners can be made of sisal, synthetic polyester, or even vintage-style Moroccan runners with bright colors and patterns.
How to Choose a Rug?
Remember to consider how much a good rug can change the look of a room and how much it can improve your comfort and the quality of life in your home.
Before you buy, consider what the space is mostly used for, if it's a busy area, who uses it the most, and how big it is.
Think about your budget and how long you plan to keep the rug, like if it's a seasonal purchase you'll probably replace next year or a long-term investment you'll keep for years.
Final Words
We hope that you have enough guide of different types of rugs to choose the perfect rug for your home areas. Rugs are decorative and functional additions to any area, providing extra warmth and comfort to people who walk, sit, and even lie on them. When put on top of the carpet, they shield it from wear-inducing foot traffic, liquid spills, and abrasive dirt. I hope that you have selected a modern rug for your home.