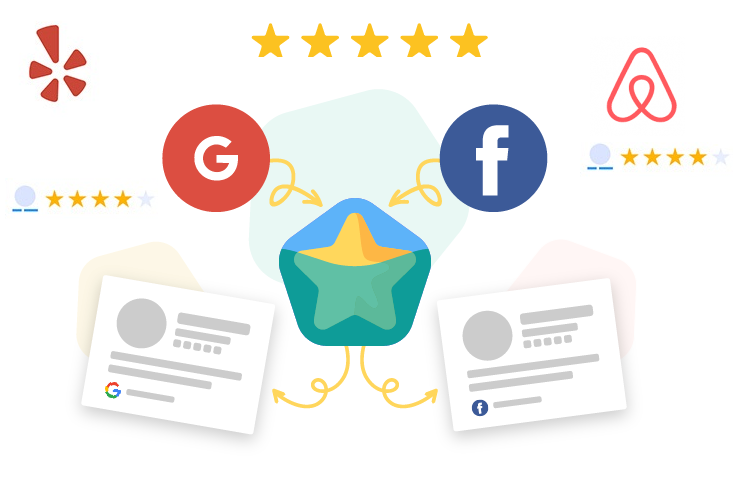 So what is the big deal about customer review sites? Well, it turns out, it is a huge deal.
It is 2023 and customer behavior and beliefs are changing fast. And to keep up with this, brands and businesses need to pay their hands on constant things like customer reviews. Choices have spoilt customers and considering that, many businesses now prefer to showcase customer reviews on their website.
And no business can expect to give an entirely bad service and sweep it under the carpet. Your customers are now empowered and vigilant about their purchases. And they are always ready to voice their opinions. This is why customer review sites for businesses exist.
If you are one of those business owners, who are struggling to get their customer's opinions, you have landed at the right place. In this blog, we are talking about different platforms that you might need in your entrepreneurial journey.
10 Customer Review Sites to Consider In 2023
As the marketing legends rightly say, go where your customers hang out. This will help you to create a greater audience in less time. This is in itself a good way to get to know your customers. Have a look at the different customer review sites for business, take what resonates, and be active in that space.
Google Reviews is an incredible service that empowers customers to share their thoughts about a brand or its offerings. If you're involved in business, it's crucial to actively engage with this powerful tool on the world's largest search engine. What's even better is that Google Reviews is user-friendly and simplifies the process for you.
It lightens your load before you even realize it, for instance, it asks your customers and store visitors via email to provide feedback about your business. This makes sure you do not have to go through the hassles of asking for reviews every time.
When it comes to fetching Google reviews for your business, it's important to abide by the principle that more is merrier. The greater the number of Google reviews you get, the more beneficial it will be for your brand's reputation and visibility. Apart from that, these reviews contain keywords relevant to your business, aiding search engines in gaining a deeper understanding of your enterprise. Once you've garnered a sufficient number of reviews, you can also showcase them by opting to embed Google business reviews on your website. This serves as social proof of your business's credibility.
Yelp reviews are an influential resource for consumers seeking information and opinions about various businesses. As a popular online platform, Yelp enables customers to share their experiences, ratings, and reviews for local establishments ranging from restaurants and hotels to shops and service providers. These reviews offer valuable insights into the quality of products, services, and overall customer satisfaction.
Yelp's review system empowers individuals to express their opinions openly and helps others make informed decisions. Users can rate businesses on a scale of one to five stars and provide detailed feedback, highlighting both positive and negative aspects. Similarly, Yelp allows users to upload photos, enabling visual representation of their experiences.
Businesses can benefit significantly from positive Yelp reviews as they contribute to their reputation, credibility, and overall online presence. On the other hand, negative reviews can impact a business's image and potentially discourage target customers.
Facebook reviews often known as Facebook recommendations are one of the biggest communities. As per the statistics by Statists, as of the third quarter of 2017, 52% of global internet users aged 25 to 34 post reviews online.
And it is easy to understand that if the majority of the reviews and feedback are posted online, a business's Facebook page will support the reputation of the business positively.
Facebook, being one of the massively used social media platforms, gives vast scope for businesses to grow. These reviews provide an opportunity for individuals to share their experiences and opinions, ranging from positive testimonials to negative criticisms. Users can rate the businesses on a scale of one to five stars and leave a written review to further elaborate on their thoughts.
Facebook reviews serve as a valuable resource for consumers seeking information about a particular business or service. Since Facebook has a huge user base, Facebook reviews can influence potential customers' decision-making processes and help them gauge the reputation and quality of a brand. Reviews can cover various aspects, including customer service, product quality, pricing, and overall satisfaction.
Trustpilot is an online review platform that enables users to share their experiences and rate businesses. It serves as a hub for customer feedback, allowing individuals to express their satisfaction or dissatisfaction with a wide range of companies. Trustpilot reviews with their various features provide insights into various aspects of the customer experience.
These criteria include product quality, customer service, delivery speed, and overall trustworthiness. Users can rate businesses on a five-star scale and provide detailed descriptions of their interactions.
Trustpilot encourages transparency by allowing companies to respond to reviews, helping businesses to build a relationship with their customers. Trustpilot is known for its robust verification process that helps to get authentic reviews from actual customers.
Trustpilot also offers features such as filtering reviews by star rating, sorting by date, and searching for specific keywords.
If you are in the hospitality business, we are certain you must be aware of Airbnb. The platform is the most affordable option for travelers. They allow guests who have stayed at an Airbnb listing to provide feedback and rate their experience. These reviews serve as a valuable resource for both hosts and prospective guests.
When a guest completes their stay, they have the opportunity to rate their host and the property on a scale of one to five stars. More than that, they can write a detailed review sharing their thoughts on various aspects such as cleanliness, location, and overall satisfaction.
For prospective guests, Airbnb reviews play a vital role in decision-making. They provide insights into the quality of lodgings, the hospitality of the host, and the overall experience. Guests can read previous reviews to assess if a listing meets their expectations and preferences.
The hosts benefit from positive reviews as they improve their reputation and attract more bookings. Reviews also provide hosts with valuable feedback, allowing them to make improvements and address any issues highlighted by guests. Hosts are encouraged to maintain high standards and respond to reviews to demonstrate their vigilance and dedication to guest satisfaction.
Another review platform from the hospitality niche is Tripadvisor. It is a popular online platform that allows users to review and rate various travel-related businesses, including hotels, restaurants, and other attractions of the city. The platform serves as a valuable resource for travelers seeking insights and recommendations from other users.
TripAdvisor reviews provide firsthand accounts of personal experiences, covering aspects such as service quality, cleanliness, ambiance, and value for money. The platform also offers a rating system based on a five-star scale.
When people are leaving reviews on the platform, they can also add long descriptions about their experience with some pictures to back them up. Tripadvisor has a user base of 490 million. So if you are in the hospitality business you can rely on TripAdvisor.
While we are talking about how customer reviews are important for the mainstream industries, some other industries like SaaS also need testimonials by the users before the potential customers lay their hands on it.
As the definition goes, Capterra is a popular online platform that offers software reviews and ratings for businesses. It serves as a valuable resource for companies looking to find software solutions. Capterra has a vast collection of customer reviews covering a wide range of software categories, such as project management, customer relationship management, accounting, etc.
Capterra's review system typically includes ratings on various factors
Ease of use
Functionality
Customer support
Value for money
The platform also offers features for filtering and comparing reviews, making it easier for users to find the most relevant and reliable information. This further helps the target audience to make an informed decision. Capterra allows you to compare four businesses at the same time.  Reviews on Capterra are often detailed and include feedback on specific features, integrations, and overall user experience. This makes sure that no one leaves a fake or spammy review.
Etsy is an online marketplace that specializes in handmade and vintage items, as well as unique crafts and supplies. With several 4.36 million active sellers worldwide, this global handmade item marketplace has become a part and parcel of festivities.
Like all the others on the list, this platform also features a review system where buyers can provide feedback on their purchasing experience. Etsy reviews offer valuable insights into the quality of products. Apart from that, Etsy mostly works on the product-based business, it also allows customers to leave reviews about shipping times, customer service, and overall satisfaction with the transaction.
Customers can rate sellers on a five-star scale and provide detailed comments about their purchase. The reviews are displayed on the seller's page, helping potential buyers make informed decisions.
Like all the other customer review platforms, Etsy likes to make sure that there are authentic reviews on its page. And considering that, the platform also offers a system for reporting and addressing fraudulent or unfair reviews.
Based on a survey of more than 2000+ US customers, 89% of buyers agree that they're more likely to buy products from Amazon than from other e-commerce sites. And that makes it an undeniable fact that Amazon is the center of the e-commerce industry.
Hence, Amazon reviews play a significant role in the purchasing decisions of customers. The platform allows customers to provide feedback on their shopping experience, the quality of the product, and seller reliability. These reviews are crucial for both buyers and sellers as they serve as a source of trust and social proof.
To combat the problem of fake reviews, Amazon has implemented various measures. Such as they have cultivated algorithms that analyze review patterns, and language. And more than that, it also identifies suspicious activities to identify and remove fraudulent or manipulated reviews. Amazon also encourages genuine buyers to leave detailed and honest reviews by sending follow-up emails and reminders.
What's even more interesting is that Amazon has implemented a Verified Purchase badge on reviews, indicating that the reviewer has purchased the product through Amazon. This badge helps customers differentiate between genuine reviews from verified buyers and potential fake or biased reviews.
G2 was formerly known as G2 Crowd. So if you ever read G2 crowd anywhere consider it the same as G2. G2 is a renowned online platform that specializes in collecting and presenting reviews for software and service providers. The platform provides and completes overview of the product including the factors like;
Ratings
Pricing
Features
User Feedback
G2 reviews offer valuable insights into the features, functionality, user-friendliness, customer support, and overall satisfaction with a particular software or service.
Unlike the other customer review sites for businesses, G2 has a different authentication process. Before anyone leaves a review, G2 asks them to authenticate their presence through LinkedIn. This ensures authentic reviews on the platform.
As soon as the business starts getting reviews, G2 also provides different badges to the service providers.
Long Story Short
Customer Reviews are an unavoidable part of any business. The only trick is to know what platform is relevant for your business. If you are into hospitality, you can opt for platforms like Tripadvisor, Airbnb, etc. and if you own a SaaS product, what's better than G2?
Remember that, you can be present on different customer review sites for business. But make sure the platform resonates well with your niche. This will open up the right scope for you and fetch you more reviews. What you also need to keep in mind is that having reviews for business does not have limited usage. You can use these reviews as an advertisement on social media in your marketing campaign. In fact, many business owners have opted to embed Google business reviews on websites.
It has a vast scope for boosting your business. So what are you waiting for? Go ahead, choose the right, customer review sites for your business, and get started.
Good Luck!