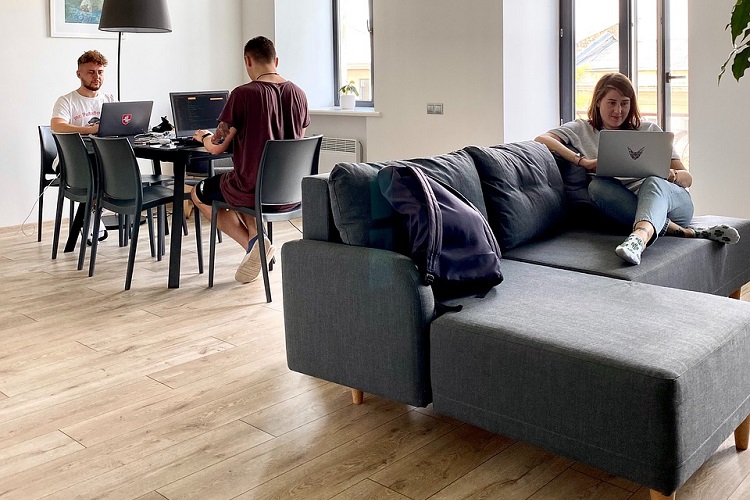 What is coliving?
Coliving is a format of living together. Coliving differs from dormitories and apartment rentals with neighbors in that it is inhabited by people who have common intentions and hold joint events and dinners.
This can be a large apartment, which startups or IT professionals jointly rent. For people who choose this format, the main thing is a unique environment, community, and communication with people close in spirit.
Coliving is the best solution for travel, long-term cooperation, and rental rates. It is now easier for young professionals not to become attached to real estate and to be able to change their place of residence at any time in their lives.
Features of Coliving
Coliving includes coworking – a space for collaboration, and communication, as well as for leisure. Thanks to the complex functional structure, residents have access to everything necessary for a comfortable life in one place. They are usually located either in large cities or closer to nature.
Living in a coliving, a person rents not just a room, but an entire apartment, because he spends most of his time in common areas:
Here you can talk, play board games, improve your English or have a themed party. There are no bunk beds, and a maximum of two or three people live in one room.
Each community has its own rules. Here, a person's personal space is respected. Residents usually have separate rooms (or fenced parts of rooms) where you can hide from prying eyes.
The cost of coliving is often less than renting all or part of the apartment. This price also includes the workplace, utilities, regular cleaning, and other expenses. People who live here work at any time of the day, not tied to a schedule.
Coliving can be home to ten to a hundred people:
different professions;
companies;
life views.
They often sponsor and organize workshops, lectures, social projects, and other joint events.
Etiquette Tips for Residents of Coliving
Here are some tips, tricks, and rules of etiquette to help you understand what to do and what to avoid.
What Has to Be Done?
Be an active member of the community. Join events, meet roommates and other residents, and take an active part in interacting with those you live with.
Follow the rules of the house with other residents: do not shout and do not violate their privacy. If you find it difficult to keep order, choose one room and limit your clutter to it.
Do not be shy. You need to be a self-sufficient, productive member of the community.
What Should Not Be Done?
Be a hermit. You do not need to be socially active all the time, but you will not be able to avoid everyone when you live in such a community.
Find out the relationship with each resident. Do your job and contribute, maintain cleanliness, and order in the house and be friendly.
Distract anyone who puts on headphones. Headphones mean that someone is working or talking on the phone, or just does not want to talk. Don't break the rules you initially agreed to.