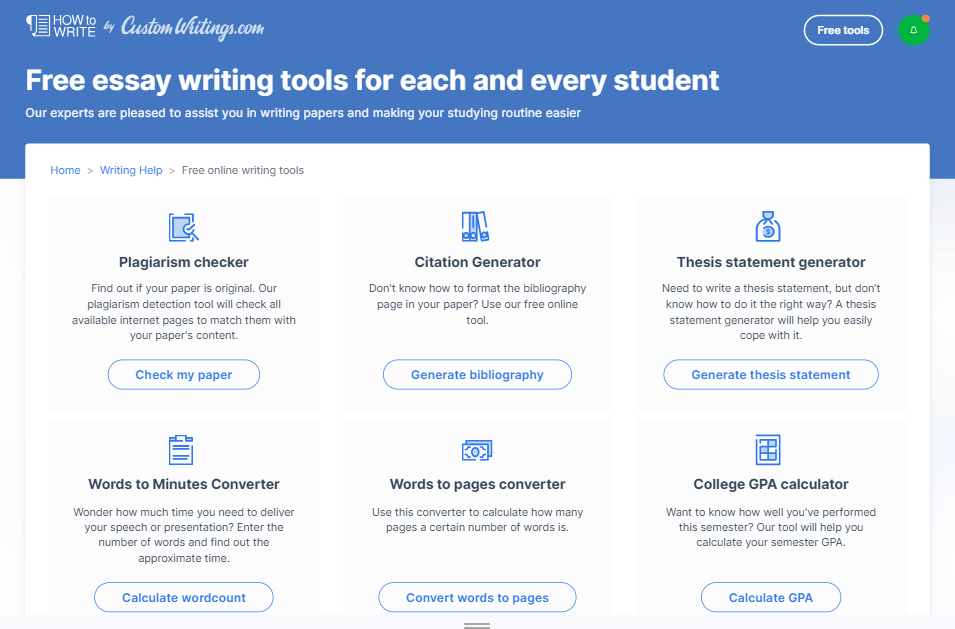 Students are fond of technology of all kinds. They commonly use it for fun and entertainment. Yet, serious and determined students also know that it can be used to meet their academic aims and make their lives much easier. All they need to do is to find and use the right essay-writing tools.
There are different types of learning tools that can help students write an essay or some other academic papers. Young learners do not always understand that the use of plagiarism checkers or topic generators is also helpful for their academic success. That is why we want to highlight the main types of learning tools and explain their functions.
Top Benefits of Essay Writing Tools
Our review likewise includes our own essay writing tool. Read on, as this article will be helpful for your academic progress.
Many students have great ideas in their heads, but they fail to clarify them on paper. Their readability is quite low, and it spoils everything. So, inventive learners can use digital editors that were designed to boost the readability of any academic paper, even if the subject or topic is boring.
These tools work online, and they help to detect the mistakes that lower your readability. Here are the common issues they identify:
Low comprehension of definite parts in the text:
Too long sentences and paragraphs;
Overuse of adjectives;
Overuse of adverbs;
Too many passive constructions;
The words with simpler meanings;
The wrong use of words.
Editors show mistakes and offer corrections. You can fix everything online and thus boost the readability instantly.
It is vital to write only original texts. Otherwise, you will lose a lot of important grades. One cannot be sure that all the parts of one's texts are always original. Thus, one can use a plagiarism checker or two. These are smart machines that scan your text and compare it with other texts available on the Internet. If any match is detected, you will see it. Thus, you will be able to rework all the matches to make your text free of plagiarism. Checkups take about several seconds or minutes.
If you have problems with your grammar, spelling, or punctuation, feel free to use at least one reliable grammar checker. It will check these issues, as well as add tips on the lexicon and style you use. All the mistakes will be underlined. Press on them to see what is wrong and check the corrections. If you agree with them, click again to let the app fix everything instead of you.
It is possible to integrate most checkers into Microsoft Office, the Browser, and various online writing tools. Thus, you can check your grammar even when you write. The checkup runs automatically.
Many students have problems with their topics. They run out of ideas after covering a lot of them. If you face the same situation, don't worry! You can use various kinds of topic generators. They work simply. You need to mention several words for the topic you think you can cover. The app will offer various word combinations with the mentioned concepts. You may get a list of relevant topics, which reaches 10–20 ideas per concept.
Some students lose a lot of time when they write their essays and other papers because they cannot use their time reasonably. This is when they can use unique digital organizers with many useful functions. These are as follows:
Planning for hours, days, weeks, or months;
Arranging tasks and meetings;
Setting alarms and reminders;
Adding headers and descriptions to your tasks;
Taking screenshots and sharing them with other users.
You will know all the tasks you must do today, tomorrow, the text week, and so on. Just record everything in one diminutive tool. You can also create outlines for your essays or other pieces of writing. It's a very convenient and accurate way to control all the processes.
A lot of students hate to insert citations or "play" with formatting. There are a lot of academic writing styles – APA, AMA, ASA, Chicago, Harvard, MLA, Turabian, etc. They all have different demands, and students frequently mess them up, which leads to mistakes. If you aren't sure whether you've inserted your citation or formatted a page correctly, use one of the citation generators. They show the right way to solve these issues.
At times, all students need is to find official articles, surveys, results of experiments, etc., to support their theories. They can use reference finders to meet that need. These are smart machines that have access to open-source databases. They provide only official informative sources.
Now, we'd like to recommend our essay writing tool. It differs from other learning tools we have already highlighted. It's a new type that gains popularity every day. It is AI-based, which means your texts will be written by a machine.
It works easily and smoothly. You need to mention the topic and academic subject, add a short description, and mention the number of pages and informative sources. It will generate a perfect text which is based on official sources. After you get it, you can rework it according to your needs to make it unique and suitable for your academic aims. This is a very fast and reliable way to get a great piece.
The Bottom Line
As you can see, there are many types of essay-writing tools. Not all of them are called "writing," but each of them can and must be used when you are busy with your essays. You should agree that the functions they offer help to complete your papers faster and avoid a lot of typical mistakes. One of the most impressive benefits is the possibility to use all these apps for free! You only need to try various types of various brands to see which ones suit your needs and learning style. Afterward, the process of writing academic papers will run faster and smoother.