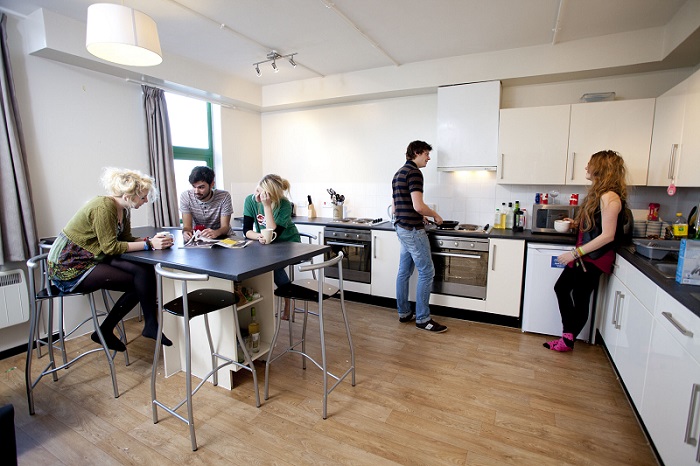 Once you have been accepted in your favorite college, it's time to relocate. The very first thing that you need is a place to live in the new city. However, it is not such an easy task to do.
You need to keep in mind certain things while buying a new student apartment that is safe and secure. So, following are the points that you need to take care while buying your apartment:
How safe is the neighborhood
First and foremost, the thing you got to do before signing a lease is the location of a student apartment. It should not be in an isolated society. Also, you should try to choose the one, which is at a walking distance from your college.
Don't consider the apartments which appear to you as unsafe. Also, avoid buying an student apartment in the area where there is no nearby market. As there are going to be things which you will require purchasing after every second day, for instance, grocery and be traveling for this purpose will increase your expenses.
Likewise, make sure about the past break-ins and neighborhood crime rates in that particular locality and before making the payments talk to the landlords, go and survey the place properly, talk about all the inclusions and exclusions and every doubt you have. The best would be making a checklist of things you want to ask the landlord so that you don't miss out on anything.
Check your checklist
The moment you start looking out for your new apartment there are specific things going on in your mind and you start thinking about all of those things that you expect from your own new apartment.
For instance, it should be a newly constructed property or not older than 2-3 years, is there proper ventilation, is there any deadline for coming back or not, whether the location of the apartment is up to your expectation, and others. If you plan to rent an apartment in Orlando, you can look for Eatonville apartments and choose one that fits your preferences.
Thoroughly inspect
Before venturing your chosen apartment, thoroughly inspect the property. Being a student sometimes you have to compromise because of financial necessity. But, still there are certain things you should never compromise on, for instance:
Unsteady or broken stairs or floorboards.
Cracked or jammed window panes.
Water mold or damage.
Check whether gas and electrical connections are functional and also check whether all the appliances are in working condition.
Do look out for other things like bathroom fixtures, water mold, dry walls, wall paneling and rickety paint and other loopholes. Because there is no reason to be jacked out of your security deposits for previous tenant's nail holes.
In case, you find any of the above problems or something besides mentioned then it's suggested getting an agreement in writing from the landlord, stating the problems and to rectify them or if not rectify, then once you leave you won't be paying for those.
Installing security camera for safety
Security becomes immensely important when you are living far from home. At home, there are parents to take care of small-small things like from receiving someone at the door to keeping an eye on the door. However, when you are living on your own you might forget or get lethargic to take care of everything. So, installing security cameras become important as it will be recording everything when you are out in college or university or even to some late night party. This would prove very beneficial for you as you can download its application and sync it with your cell phones and in
This would prove very beneficial for you as you can download its application and sync it with your cell phones and in the case of adversity you will be notified wherever you are through the application.
In case of urgency
While you are looking for student apartment you need to verify that how receptive the building maintenance and landlord are if you come across any problem. You need to ask them how nearby the police station or fire station is and is there maintenance service available all the time. Besides, ask for all the emergency numbers to get your back covered.
Other ways to secure your apartment:
Installing home alarm system will respond in case of emergencies and contact concerned authorities.
Installing image sensors will help in detecting the movements of the identified sources.
Remote lock solutions installation will come very handy, especially when you are in a hurry, for instance, you can lock and unlock your door using your laptop or smartphone.
Read before you Sign
Once all your requirements have been met and you have decided to final that place, then it is the time for you to sign the lease. So, before signing just make sure you and your co-signer read the terms and conditions carefully before committing because once you have signed you will be bound by that lease for a certain amount of time and later on cannot do anything about it. Check for all the inclusions and don't just sign because he agreed on certain things verbally, unless it's in written don't sign and believe.
Living independently and especially for the first time is a big decision in life. Thus, ensuring the security of your place and your own safety by clearing your doubts regarding security becomes very important and gives you mental peace as well.