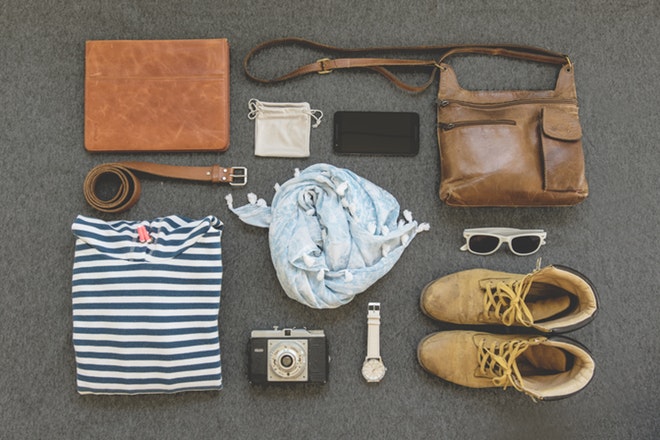 Buying fashion accessories is fun, but storing them is a totally different story again. How many times have you looked for your favorite neckpiece or earrings for hours without any luck? That's a problem with many girls out there and is enough to make anyone go crazy, especially if she couldn't complete her outfit on the way she wanted!
If you share the same problem, here are 5 creative ways to store your fashion accessories.
Create a Wall Art with Your Hats
A beautiful and well-made hat is not just a style investment, but also your best friend during the sunny afternoon excursions, especially with summer right around the corner. However, storing and organizing hats is more complicated than buying them since they come in all variety of shapes and sizes and if stored incorrectly, it can damage your hats beyond repair.
Since you might not wear your hats often and are more likely to have more than a few, store them in a way so as to create interesting wall art. All you need are a few hooks and hang them abstractly on your wall. Use them to hang your hats when not using. You can actually create a cool collage look and can even add a dramatic effect on your interior decor, especially if you have any antique hats in your collection that you don't get to show off often in person.
Similarly, you can use some lightweight and inexpensive twine and clothespins to create hat displays or hang them using sailor's knot up on the wall.
Pill Organizers to Store Earrings
Well, Jewelry deteroriates if not taken care of. Tough there are proven ways to restore it, I still believe preventing them is very much essential. And guess what? I've got a creative way to prevent the Jewelry (be it earrings or rings)!
You can never have enough earrings! But storing them is a bit of a chore; they are often small and hard to keep track of. And as a result, they can easily get lost and rummaging through piles of earrings is no fun. Well, the good news is there are some cool and easy DIY ways to store your earrings.
Reuse plastic pill organizers to keep your earrings from getting lost. The compartments are usually small and see-through, making them perfect for storing small earrings. These pill organizers are cheaper than the regular jewelry boxes but offer similar results and are a great solution for traveling.
In addition, you can use ice-cube trays and egg cartons to keep your earrings separated, organized and visible. Just like the plastic pill organizers, you can line up ice-cube trays and egg cartons side by side in your dressing unit.
Photo Frames to Hang Sunglasses
For some, sunglasses are a seasonal style accessory but for many, they are all-year-round functional objects. Unfortunately, not all of them make it back into their cases and often pile up on top of your dresser or in a drawer. The problem with sunglasses is that jumbling them together will inevitably result in getting them scratched. So, what you need is a pretty display where it is easy to store and see your whole collection at a glance.
A simple white photo frame can be a great option to hang your sunglasses on the wall, keeping your sunglasses safe from scratching. All you need are some white frames and strings and add them across the width of the frame to hang your sunglasses. What more, you can really create some beautiful displays.
Similarly, old medicine cabinets can also be converted into storage units for sunglasses. Stack your shades on the shelves or hang them across the back of the cabinet using small hooks, the options are numerous. Another functional idea is to get an over-the-door shoe organizer and use its pockets to tuck in all your sunglasses among other things.
Wine Racks to hold Handbags and Clutches
If you have a collection of handbags and clutches, storing them can be a little tricky, especially because they tend to bend, sag and even become damaged when not stored correctly. And since not all are lucky enough to have a walk-in closet, getting some purse organizing ideas on board can help.
One of the most creative ways to stack your clutches and handbags is to place them on a repurpose an old wine rack. You can easily buy a used one online on from a flee market if you don't already have one at home. Repaint it, if you have to and hang in on a corner wall. It will surely create a dramatic effect on your decor as well.
Alternatively, you can drape a rod or even an S-hook over your closet door and hang your clutches and bags using transparent bags.
Ladder Up Your Shoes
Everyone needs a little extra shoe storage as it is essential to keep your shoes organized. This not only helps in keeping your apartment/house clean and tidy but also protects your shoes from damage. This is especially true for the lovely ladies, whose collection of shoes can often get out of control. But shoe storage goes beyond decluttering your space. You need ideas that are functional as well as add a wow factor to your home decor.
Creating a ladder shoe shelf is one such idea. Get a ladder and a couple of wooden boards to create a beautifully tiered rack to display all your shoes. This functional wooden shoe rack will not only speak volumes about your creativity but will also leave your guests envious.
However, if you have space problems, using clear containers to store your shoes is also a great option. Opt for containers that fit perfectly below your hanging clothes in your closet.
Conclusion
A massive walk-in closet is perhaps every girl's dream but a distant reality for most. But that doesn't mean you can't store them in an awe-inspiring way. All you need is to think out of the box and come up with a plan to utilize your space in the best possible way.